Glenda Ritz, a library media specialist and teacher at Crooked Creek Elementary School in Washington Township, has been an educator for 30 years. She is the Democratic candidate for state superintendent for public instruction opposing Republican incumbent Tony Bennett in the November election.
Ritz, 57, recently sat down with IBJ to share the keys to her campaign. The following is an edited version of the interview.
IBJ: You were prompted to run against Tony Bennett by the 2010 legislation that calls for all third-graders to pass a standardized reading test before moving on to fourth grade. Why did you object so strongly to this requirement, even though third-graders were already taking the standardized ISTEP test?
Ritz: That's not my sole reason for running. However, it was the final straw, so to speak. I'm opposed to pass-fail assessments of that type. And ISTEP does not have a specific reading component. It's a language-arts test. I think when you have a pass-fail test like that, that we are telling children at age 8 that they are failures, and that is not the approach that educators like to take when they're teaching children to read. So I prefer a reading assessment that actually shows improvement of reading and really tells what level of reading students are performing without the high stakes of failing. Retention as an intervention very rarely proves effective in helping a student to improve their reading skills.
IBJ: Indiana students are now required to take the ISTEP test in grades 3 through 8, as well as to take standardized tests in high school once they complete algebra and sophomore English. Do you want to reduce the number of grades in which standardized tests are given? If so, what would you cut out?
Ritz: I want to replace our system of pass-fail with an assessment model that shows real growth in learning. A fourth-grade teacher should be able to know that they have sixth-grade readers, fifth-grade readers, second-grade readers. They need to know what level of readers they have in their classroom to be able to provide resources and instruction to individual students. Reading is important, and having that kind of knowledge about your students is important in K-12. I'd like to implement an assessment system whereby teachers at any level know the reading levels of their students in their classrooms. We don't have that information supplied to teachers. To me, that is true assessment information that teachers can use, administrators can use … care givers, grandparents.
IBJ: You have criticized Tony Bennett for running a top-down Department of Education and have said you want to restore local control. Does that mean you would end the current process in which the State Board of Education has taken over struggling schools in Gary and Indianapolis? If so, why?
Ritz: Yes, it does. I want to run regional summits around Indiana when I'm elected to really know the challenges of individual school districts and communities to work together to have plans for how to meet those challenges. And then I want to reorganize the Department of Education to actually provide support for the challenges in those school systems. As an example, if a school system really has challenges with discipline and bullying and those types of issues, then I think the Department of Education has the responsibility to provide the resources and the professional development for students and teachers to make that happen.
IBJ: You oppose the voucher program created in 2011 that allows low- and moderate-income students to obtain about $4,500 per student to attend a private school. If elected, would you advance legislation to kill this program? How would you convince the Republican-controlled Legislature to agree?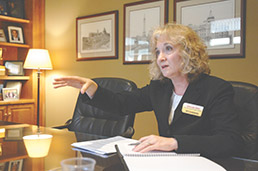 Glenda Ritz says it's difficult for teachers to build relationships with students because they're too busy giving assessments and teaching for required tests.(IBJ Photo/ Perry Reichanadter)
Ritz: The voucher issue is going to be heard before the Indiana Supreme Court, so I don't believe it's a legislative issue that I can address. I'm not opposed to parents' sending their children to private schools. But I am opposed to public dollars going to private schools.
IBJ: You want to make teacher licensing standards tops in the nation. Do you object to the licensing standards Bennett has advanced, which have tried to increase the amount of content knowledge over pedagogical instruction?
Ritz: The licensing that he wants to put in place would be that anybody with a bachelor's degree in any subject matter not in the field of education can pass a test with standards developed by the Pearson testing company and become a teacher. And once you're a teacher, then you can take another test and be licensed in that area, even in special education, with no training in the classroom, with no additional instruction about how to teach students with special needs. You just pass this test and you can be licensed to teach. That is degrading to our profession. We are trained to work with children in our classroom. We're going to be putting unqualified people in our classroom, so I believe he's just getting rid of all the professionalism by simply having people pass a test.
We need to have stringent, high-quality standards for pre-service of teachers. You're talking to a national board-certified teacher. I know what high standards are supposed to be and how you go about making that happen. So we may need some talk and dialogue with the higher education community about what that looks like. But that needs to be in place. And professional development is totally necessary. That would be like taking a doctor and then never having any more professional development.
IBJ: You have spent a lot of time talking about how you would improve access to school data and proposed policy changes on the Department of Education website. Is this just a matter of better Web design, or are you talking about disclosing more information than DOE currently does?
Ritz: You can do a Google search on that site and what you mostly come up with is news releases. You come up with Excel spreadsheets that aren't easy to interpret. There's old information. The whole data piece needs to be reworked, and we should be providing appropriate information in easy-to-use formats. And it should be readily accessible. I had a teacher make a comment to me that the Department of Education [site] now looks more like a Tony Bennett commercial than it does having access to information that's meaningful to parents, or classroom teachers or administrators.
IBJ: At the end of June, you had less than $25,000 on hand compared to $780,000 held by Bennett. How do you plan to overcome such a massive fundraising disadvantage?
Ritz: I'm actually not worried about that at all. We have a budget and we plan on meeting our budget to do what we feel we need to do for our campaign. And it's who shows up at the polls and who votes that will determine the outcome.
IBJ: As an educator, what has angered you or disappointed you most about Bennett's tenure as state superintendent?
Ritz: For the students, it's the assessment pieces and the high stakes. Teachers are not able to develop the relationships with students, provide the relevance to our curriculum, and the rigor that's necessary to give students a quality education because we have been relegated to teaching to the test. We spend so much time teaching to the test and giving assessments and assessments and assessments all year long. That's my first piece.
The second is, teachers will tell you that they feel disrespected by the leader of our education system in Indiana. Morale is very low in schools. And the teaching environment is the learning environment of our students. And we should not be feeling disrespected when we go to work every day.•
Please enable JavaScript to view this content.