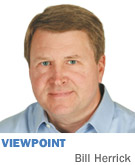 I've developed a habit during the work week of checking world financial markets when I wake up. It really gets me upset when I see the markets are down because Greece or some other small Euro nation can't sort out its financial quagmire. Generally, the United States follows along when things open later that morning.
I'm in the oil business, and it simply seems wrong that what is happening in Athens should affect my business.
I'd be all fine with that if the dollar were stronger because of our own volition and not just because we're better off than someone across the pond. It's been five years of dismal economic news and, frankly, I don't see it getting better in the near term.
So, how do we move this economy forward?
As a former banker who is now in the oil industry, I always tell people that if I go back to school and get my law degree, I can say I worked for the three most-hated professions. Actually, I would like to do that. Maybe I might get some insight as to how a politician works.
In the business world, if we have a problem, we get the necessary leadership together, review all the options, and determine a plan and timetable to fix things.
In the political world, members from each party (or within each party) argue, while forgetting whom they represent. If they can't solve the problem, they don't go out of business or lose a job like we do. They just move on to the next issue.
Sound like I'm frustrated? Actually, the frustration gets higher each day I listen to more arguments between the parties and the lack of sensible solutions. At least the Indiana Democrats finally got rid of Pat Bauer.
Indiana has benefited compared with cash-strapped states like California because of Gov. Daniels' significant business background and his ability to cut through the politics to get the state's problems solved.
Likewise is the case at Ivy Tech Community College, where President Tom Snyder, previously the head of Delco Remy, navigated through numerous business challenges in spinning off the company from GM and making it a world company.
Higher education I hope will help us, but we clearly need immediate initiatives to get the economy to improve. My overall concern is that we have lost so many manufacturing jobs that the service, retail and distribution segments simply won't give us the lift we've had in the past.
The things that worked in the Reagan years were less government, active bank lending and the investment tax credit. I believe government has forgotten that the reason businesses borrow money is to make money and grow. They should reintroduce tax credits for investors and businesses, as ultimately they will gain larger taxpayers in a few years.
Finally, put together a panel of successful businessmen to come up with long-term solutions. I don't want the Warren Buffet type who is really more of an investor with strong political influences on both parties.
Find individuals who worry each day about how they are going to compete and who operate with a tight budget and a nervous banking relationship. These individuals are the backbone of our economy and need to be heard.
If the government took a less active role in trying to get into our respective businesses and ran itself like a business with limited financial sources, I don't believe I would need my Bloomberg App nearly as much.•
__________
Herrick is president of Midwest Energy Partners, an Indianapolis-based firm that assists individuals and private equity firms in investing in oil production. Send comments to ibjedit@ibj.com.
Please enable JavaScript to view this content.