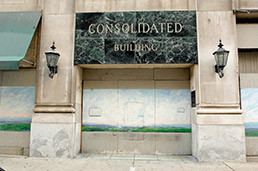 The Consolidated Building, still in decent shape after sitting vacant for more than a decade, may see new life as 98 apartments and first-floor retail space. (IBJ photo/Perry Reichanadter)
Two local buyers are angling to revitalize a century-old, 15-story downtown landmark that has confounded redevelopment attempts since its last tenants departed in the late 1990s.
Ambrose Property Group and The Whitsett Group hope to transform the brick and terra-cotta Consolidated Building at 115 N. Pennsylvania St. into 98 apartments with first-floor retail or restaurant space.
The developers plan to invest $16 million to acquire and restore the building, betting plenty of folks who work in the trio of office buildings steps away from the Consolidated—Chase Tower, Regions Tower and BMO Plaza—will be eager to live close to work.
Ambrose and Whitsett plan to close on the purchase of the building from an affiliate of New York-based Crown Properties in October and start construction in the spring, Ambrose President Aasif Bade said.
He declined to share the purchase price, though Crown had been asking about $6 million. The building, one of downtown's few remaining vacant structures, is well located, but its condition and lack of parking have made redevelopment tricky.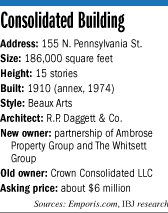 The project would be a boon for downtown both in terms of the cleanup of a blighted building and the potential influx of full-time residents in an area without much residential space, said Terry Sweeney, director of real estate for Indianapolis Downtown Inc.
"It's just been an eyesore—a drag on development in that corridor," Sweeney said. "This creates an opportunity for active space on the first floor, with residential density upstairs. The more we can integrate residential and mixed-use into the core, the better for local restaurants and businesses."
The Consolidated was built in 1910 as an annex to the adjacent Lemcke Building, now home to The National Bank of Indianapolis, and once contained a vaudeville theater. A seven-story annex was added in 1974.
The building's downfall began in 1992, when anchor tenant Indiana Insurance vacated 10 floors and moved to the suburbs. The last remaining tenants, Downtown Comics on the first floor and The Cozy restaurant on the second, departed by 2000.
If the sale closes as expected, the Consolidated will have local owners for the first time in at least 25 years.
Crown, which bought the building for $2.73 million in 2004, stabilized the structure and gutted its upper floors, removing mold and asbestos and alleviating some of the "mystery behind the walls" for the new owners, Whitsett Group principal Joe Whitsett said.
Redevelopment plans for the roughly 186,000-square-foot building call for market-rate apartments, ranging from about $600 a month for a one-bedroom unit on a lower floor without much of a view to $1,375 for a two-bedroom unit higher up.

Bade
Apartment developers have been on a tear downtown, thanks to easier financing and record-setting occupancy rates. Downtown's roughly 7,000 apartment units were 94.4-percent occupied in 2011, a 3-percentage-point gain over 2010, according to data compiled by locally based Tikijian Associates.
But Tikijian principal George Tikijian and other market observers worry developers may be fueling a bubble. Hundreds of units are in the works, including at the $155 million mixed-use CityWay project, a second phase of Cosmopolitan on the Canal set to include a Marsh grocery store, and a redevelopment of the Bank One Ops Center adjacent to the Market Square Arena site.
Location should be a big advantage for the Consolidated Building, Bade said.
"It's a unique opportunity for downtown executives, empty-nesters or even singles to have a great location for living right next to where they work," he said. "It's truly an urban work-live, walk-to-work concept."
A drawback is, the property does not include parking. The developers are negotiating with management at parking garages nearby, but they expect a chunk of the tenants the building attracts either won't maintain a vehicle or won't care if they have to park a few blocks away.
Other options include a valet for residents, or perhaps adapting part of the building's annex space to accommodate a garage.
Financing shouldn't be a problem: The developers have secured construction and permanent loans from BMO Harris Bank, which has a particular interest in the project's success. The Chicago bank's local headquarters is one door to the north.
Ambrose and Whitsett also plan to seek historic rehabilitation tax credits and may ask for city incentives, depending on how pricing shakes out for their debt and equity mix.
Both development firms opened their doors during the recession, and the Consolidated is their second project as partners.
In February, Ambrose and Whitsett bought the 10-story American Building at 333 N. Pennsylvania St., a limestone structure built in 1929, from the parent company of The Indianapolis Star. They plan to spend $7 million to $10 million to retrofit the former office building to accommodate 72 apartments.
Whitsett focuses on the multifamily portion, while Ambrose handles leasing for commercial space.
The partners also are considering a bid for the remainder of the Star headquarters at 307 N. Pennsylvania St., which the newspaper put up for sale in late July.
The local office of Los Angeles-based CBRE is marketing the 190,000-square-foot headquarters building and 500-space parking garage without an asking price. The newspaper is looking for a smaller, modern office space more suited to a digital media company.•
Please enable JavaScript to view this content.