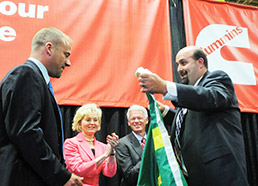 In 2010, Seymour Mayor Craig Luedeman, right, gave a city flag to the manager of the newly named Cummins Seymour Engine Plant. At the event, the company announced it would spend $100 million on the factory and hire 200 people. (AP photo)
Cummins Inc.—a company that quadrupled its profits in two years—has shifted to cost-cutting mode amid a drop in global sales.
The Columbus-based engine manufacturer says it's still on track to increase sales from $18 billion in 2011 to $30 billion in 2015. But management has adopted a more judicious approach to expenses as it waits for orders to pick up in key foreign markets.
Managers are giving extra scrutiny to travel and other expenses and may put off hiring for some jobs, such as clerical positions and those in information technology, said Carole Casto, Cummins' executive director of corporate communications.

"Some of this has a similar look and feel [to 2008]," Casto said. "We need to be really serious in making a plan."
Chief Financial Officer Pat Ward said the company would continue investing in areas that are "sacred" to growth strategies. That includes pumping more than $300 million into its Seymour plant for expansions that are expected to create almost 500 jobs by 2015.
The company, which has about 8,000 Indiana employees, unveiled the cost controls after reporting on July 31 that second-quarter profit dropped 7 percent, to $469 million, and revenue slipped 4 percent, to $4.5 billion.
The results snapped a nearly three-year growth streak that pushed 2011 profit to $1.8 billion, up from $429 million in 2009.
And forecasts don't show much optimism for the rest of this year.
Second-quarter profit would have been even slimmer had the company not trimmed costs to boost margins, Ward said on a July 31 conference call with analysts.

Ward
"It's important we find the right balance of continuing to invest in growth, while at the same time managing spending prudently across the company, across all four business segments and the corporate areas," he said.
Slower for everyone
Slowing factory orders worldwide have forced Cummins to react with all other global manufacturers, industry experts believe.
The Institute for Supply Management's factory index, a popular bellwether for manufacturing, was 49.8 in July and 49.7 in June. Anything below 50 marks contraction.
The mood has turned cautious since Cummins' annual meeting in May, when CEO Tom Linebarger extolled the company's ability to "capitalize on the macro trends that are shaping the global economy."
Today, those plans remain in place as Cummins eyes $30 billion in revenue by 2015. But the international marketplace hasn't cooperated for American manufacturers.
Since May's annual meeting, indexes have shown China's industry has contracted for most of this year. The situation hasn't been much better in India, Brazil and other emerging economies, according to the U.S. Department of Commerce.

Linebarger
The company on July 31 lowered its 2012 outlook—citing fewer orders in Brazil, India and China, combined with softened demand for trucks in the United States.
Originally, Cummins expected revenue to increase 10 percent from 2011's $18 billion. But now the company is projecting flat revenue this year.
Companies like Cummins and Illinois-based competitor Caterpillar Inc. took on risk by aggressively expanding internationally, and now they're weathering the downside, said Tom Brush, a professor at Purdue University's Krannert School of Management.
Despite reporting a 67-percent increase in second-quarter profit, Caterpillar also lowered its outlook for 2012. The company cited international economic woes in scaling back the high end of its revenue projection for the year, from $72 billion to $70 billion.
Manufacturers that have tapped emerging markets, as Cummins has, have seen rapid sales growth, but the strategies have subjected the companies to those countries' broader economic trends.
"If you're involved in Chinese construction, forget it," Brush said. "If you're involved in Australian mining, forget it."
R&D spared
Research and development is one area where Cummins said it won't cut back.
Linebarger told analysts on July 31 that expenses would remain intact if they applied to one of the four major global trends spurring Cummins' growth: globalization, increasing emission standards, energy prices and availability, and infrastructure investments.
To keep up with those demands, the company pumped $187 million into R&D and engineering in the second quarter. It was $6 million more than the first quarter and $30 million more than the second quarter of 2011.
The same spending strategy applies to any production investments in Cummins' key growth plans, Casto said.
In Indiana, that includes the more than $300 million in expansions at Cummins' Seymour plant 60 miles south of Indianapolis.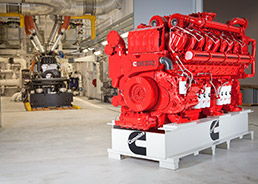 The Seymour plant makes Cummins' 16-cylinder, 4,000-horsepower diesel engines that power freight trains, boats, and other large vehicles and equipment. (Photo courtesy of Cummins)
The company announced in April it would invest $219 million and add 290 jobs by 2015 for production of its 16-cylinder, 4,000-horsepower diesel engines that go into freight trains, boats, and other large vehicles and equipment. That investment is on top of a 2010 announcement of $100 million going into the same plant.
The 8-foot-tall engines' market, off-highway industrial, took a hit in the second quarter with the rest of Cummins' sales. Revenue in the business segment dropped 13 percent, to $859 million.
But the new lines in Seymour won't begin operating for another three years, Casto noted, which gives global customers time to boost orders.
Analysts on board
Wall Street analysts applaud the company's strategy of reining in costs while still gunning for growth.
Cummins shares now are fetching about $101, up from $95.60 the day before release of the second-quarter results, which topped analysts' expectations.
On the year, the stock is up 15 percent, though it's well below the March high of $128.
Barclays Capital Inc. said in a report that the cuts showed management was "proactively taking actions to sustain margins."
Barclays analyst Andy Kaplowitz added: "The reason why Cummins has been successful over the last 10 years is they've had the best technologies and they've invested in technologies to stay ahead of competition. I think they'll continue to do that globally."
He described Cummins' expense reductions as "fine tuning" to deal with its market struggles.
"I think it's just sort of a sign of the times," he said. "Cummins we still look at as a growth company."•
Please enable JavaScript to view this content.