When, from a parking lot, I see a generically named strip-center pub, I assume that, behind its storefront sits a generic strip-center pub. And when directions are stated as being "between Kroger and Kmart," my expectations are not raised.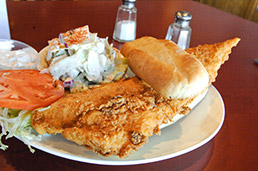 One that didn't get away: The fish sandwich is enormous at Green Street. (IBJ Photo/ Perry Reichanadter)
But Green Street Pub and Eatery (911 N. Green St, Brownsburg, 852-6644) has built a reputation for friendliness and good eating that led three different locals to ask when I might get out to review it. This month's theme of "colorful" restaurants was a good enough excuse.

Three steps in and you'll forget Green Street's surroundings. Not that it's fancy, it's just spacious and spare, without the crowding of tables and dimness of light that gives these sorts of locations a mediocre name. In a room big enough for a family reunion or Rotary meeting, we started with an enormous plate of Nachos ($8.25). The chips were warm, and chunky grilled chicken mixed it up with the salsa to make for a hearty appetizer.

Clearly size matters here—but not at the expense of taste, as was evident in both the Whale Fish Sandwich ($9.25) and the Jumbo Pork Tenderloin ($9.25), both of which we asked to be prepared with Green Street's signature crumb breading. House-made coleslaw was an unexpected bonus alongside one of the sandwiches and golden-brown fries ably sided the other.

Thankfully, we got the final available portion of the delicious Meatloaf ($8.95) a dark, thick, every-Monday special served with a proportionately large pile of gravy-covered mashed potatoes and bacon-enhanced green beans.

All of which added up to a meal that made clear why Green Street has such a loyal audience. And why it has survived in an area that could have outgrown it.•

—Lou Harry
__________

Last in a month long series of reviews of colorful restaurants.