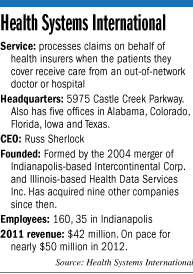 Employers and health insurers do everything they can to steer workers to "in-network" doctors and hospitals—those that have agreed in advance to lower their charges.

But when workers wander outside the network, employers and insurers call Health Systems International LLC. The Indianapolis-based company helps chop down the cost of medical bills on the back end.

It's a job that has fueled rapid growth.

Health Systems is on pace this year for nearly $50 million in revenue, up from $42 million last year and just $4.5 million eight years ago.

The company was named this year by Modern Healthcare magazine as one of the 40 fastest-growing health care companies in the nation.

"We're not satisfied with slow growth. We think we're a right company at the right time," said Health Systems CEO Russ Sherlock from the company's headquarters in the Castleton area. The company has 35 employees here and another 125 spread around five other U.S. offices.

Sherlock
Acquisitions have accounted for 60 percent of Health Systems' growth, Sherlock said. He has done 10 deals since 2004, including four in the past two years. And Sherlock expects to continue that pace.

"As we look forward, we see the opportunities as only bigger and better," Sherlock said. "Health reform is going to push more people into the health system. Therefore, there is going to be more people that are going to need our services."

Those services include reviewing out-of-network bills for errors or unnecessary charges, negotiating lower rates with health care providers, and helping foreign and domestic government agencies obtain reasonably priced health care for their employees.

And Health Systems itself has established access with 150 provider networks around the world, so it can get the "in-network" discounts that its clients can't.

The discounts Health Systems has negotiated are all over the map and sometimes come up as zero. But Sherlock said it's common for his company to obtain 60 to 70 percent discounts on lab tests and 15 to 20 percent discounts on doctor's visits.

Sherlock saw some of these services being built up inside insurance companies during his time as a manager at Anthem Blue Cross and Blue Shield in Indianapolis. But he created Health Systems when he saw that those services were a strain for even large companies like Anthem to handle on their own.

Anthem's parent company, Indianapolis-based WellPoint Inc., is now one of Health Systems' roughly 400 clients.

In 1998, Sherlock helped spin out a company from Anthem called Outsourced Administrative Systems Inc., or OASYS. Sherlock was its CEO until it was sold in 2002 to Dallas-based IT giant Affiliated Computer Services Inc., which is now owned by Xerox Corp.

Sherlock took some of his own money from those deals and invested it in 2003 in Indianapolis-based Intercontinental Corp., which reviewed medical bills for insurers and travel assistance companies, mainly in Europe and Australia.

He started using a provider of PPO network data called Health Data Services Inc. And in 2004, the two companies merged to form Health Systems.

Their acquisitions since then have been funded nearly all by cash and bank debt. Sherlock did get an outside investment in 2007 from Great Point Partners, a venture capital firm, which allowed him to buy out his partners.

Sherlock sees Health Systems as primarily an IT company. It has established the necessary IT interfaces with 150 provider networks around the world, so clients don't have to. And, Sherlock claims, its IT systems make it easy to add a new one if a client requests it.

That broad and easy access to provider networks is what attracted Seven Corners, a Carmel-based provider of insurance for travelers, said Donna Rau, director of Seven Corners' government division.

Seven Corners needed broad access to doctors and hospitals because its government clients often send people to remote areas. For example, U.S. government agencies sent numerous workers to rural Mississippi in 2005 and 2006 to help clean up after Hurricane Katrina.

"You've got to have a network that covers providers in remote areas so you can still get discounts," said Rau, whose company hired Health Systems in 2008.

In addition to such companies as Seven Corners and WellPoint, Health Systems serves worker's compensation insurers and shipping companies, who insure their crew members and, by maritime law, must settle all bills before they are allowed to leave a port.

"We're helping achieve an unparalleled level of cost savings," Sherlock said. "But we're doing that, while we're alleviating the burden of managing a very inefficient network of these disparate niche solutions."•