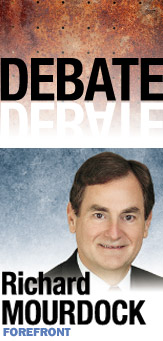 QUESTION: What is your view of the role of compromise in making legislation?
ANSWER: There's a lot of sincere talk these days about compromise. Most Hoosiers honestly struggle with the question of whether we need to get tough on Washington and firmly stand our ground against business as usual or "compromise" and strike the middle ground. It's a fair and natural dilemma.
I find instruction in this regard from what we just accomplished here in Indiana with my partners, Gov. Mitch Daniels, Lt. Gov. Becky Skillman and a bipartisan Legislature. As state treasurer, I was proud to be part of a team that at times fought hard, and when others wanted to work with us to achieve our goals, compromised. That's the Hoosier way.
In Indiana, we live within our means. In four years Hoosiers witnessed the transformation of a $700 million operating deficit into a budget surplus of $1.3 billion. We reduced our debt 40 percent, and our state received its first AAA bond rating.
The federal government needs to follow our lead, eliminate wasteful spending and work toward balancing the federal budget so our economy can thrive.
We now have a business climate in our state that allows employers to create jobs by simply getting government out of the way. We keep our taxes low so hardworking Hoosiers can keep more of their hard-earned money.
In Indiana, we value individual liberty when it comes to health care. Our state employees have reasonable health care options that enable them to control their health expenditures. In recent years, preventative care rates have increased while state spending on employee health benefits decreased.
Hoosiers understand the importance of individual liberty and the value of having options when it comes to health care. In contrast, ObamaCare is wrong for Hoosiers, and it is wrong for Americans.
In Indiana, we protect our children's futures. Our school system is one of the most innovative and rapidly improving in the country. As treasurer, I have worked hard to make Indiana's 529 College Savings Plan one of the top five plans in the country. It has helped 165,000 Hoosiers save for college tax-free and earn a 20-percent credit on their Indiana income taxes. As a nation, we must facilitate opportunities for our children to have a quality education, just like we do here in Indiana.
When the banking crisis that swept the country in 2008 threatened the safety of public funds on deposits in Indiana banks, I worked with members of both parties in the Legislature to pass banking reform laws to protect these funds.
We work hard and we take care of each other. As a country, we must figure out how to maintain solvency of Social Security and Medicare so that we can provide for individuals already receiving benefits as well as those nearing retirement, and reward individuals who have worked hard their entire lives.
I can remember my time as the only Republican on the Vanderburgh County Commission, working with my colleagues to turn riverboat gambling revenue into an innovative welfare-to-work program. It was a terrific example of cooperation and bipartisanship at the local level and it served our Evansville area well. That's the Hoosier way to compromise.
So, I will work with any member of any party who wants to move our nation forward just as we have here in Indiana. On the other hand, I'll never compromise my Hoosier values to individuals in Washington who think that Indiana has it wrong. Hoosier values work for Indiana, and honestly, it's high time we take the Indiana way of working through problems and creating opportunities to Washington, D.C.•
• Mourdock, Indiana state treasurer, is a Republican running for the U.S. Senate. Send comments on this column to ibjedit@ibj.com.
Please enable JavaScript to view this content.