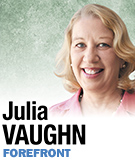 When the U.S. Supreme Court upheld the constitutionality of the vast majority of the Affordable Care Act, it threw a curveball to politicians like Gov. Daniels and Mike Pence, who were counting on the court killing the implementation of national health reform.
Daniels' and Pence's refusal to prepare Indiana for the implementation of reform is simply putting their political agendas ahead of Hoosiers. It's a tremendous disservice to low-income uninsured Hoosiers and the health care providers saddled with caring for them.
Daniels recently asked the gubernatorial candidates to weigh in on two key issues central to the ACA: the expansion of Medicaid and whether Indiana should establish a state-operated health insurance exchange to help low- and moderate-income consumers purchase private insurance.
Pence's response is unnecessarily political and indicates that if elected governor, he'll continue to play political games with health reform instead of working with the federal government to make health insurance available and affordable for all Hoosiers.
Pence claims that expanding Medicaid coverage to uninsured adults up to 133 percent of the federal poverty rate will cost the state billions between now and 2020, but these claims simply don't hold up when analyzed through a non-partisan lens.
The health reform law provides a beneficial financial deal for states that expand Medicaid. Specifically, the feds will assume 100 percent of the cost for newly eligible individuals for the first three years of the expansion. That amount will be reduced to 93 percent until 2020; afterward, the federal government will cover 90 percent.
According to the non-partisan Congressional Budget Office, between 2014 and 2022, states will be responsible for only 7 percent of the cost of expanding Medicaid, and additional costs to the states will represent only a 2.8-percent increase in overall Medicaid spending, absent any reform and new coverage.
For most concerned about finding ways to provide affordable health coverage to low-income people, that deal is too good to pass up.
Pence also fails to recognize that an increase in the Medicaid budget overstates the net impact on the state budget because it does not reflect the savings that state and local governments will realize in health care costs for the uninsured.
While it's disturbing that Pence would turn down this bargain in the name of "sovereignty." It's even more troubling that Indiana's refusal to participate will lead to a shocking inequality in health care access.
People with incomes between 100 percent and 400 percent of the poverty level will be eligible for subsidies to help them afford private health insurance coverage. But people below 100 percent of the poverty line will not be eligible for financial assistance for private coverage because the law assumes they will be enrolled in an expanded Medicaid program.
So in Indiana, if Pence is elected governor, despite the passage of a federal law designed to increase the number of people with health insurance, low-income Hoosiers won't see as much benefit as people who live in states where Medicaid is expanded. And moderate-income Hoosiers will gain more than lower-income ones.
Pence is also opposed to Indiana's establishing a state-based health insurance exchange, a position which defies logic, particularly given his concerns about states' rights. If Indiana refuses to establish an exchange, the federal government will do it for us.
If Pence is so concerned about overreach by the feds, why not gain some control over the process by putting state rules in place?
The reason, of course, is that Pence cares more about his political future than the uninsured. The thing is, Hoosiers deserve a governor who will rise above partisanship and work with the federal government to solve the health care crisis, not one eager to undermine the effort for political gain.•
• Vaughn is policy director for Common Cause/Indiana, a nonpartisan citizens lobbying organization that works for open, honest and accountable government. Send comments on this column to ibjedit@ibj.com.
Please enable JavaScript to view this content.