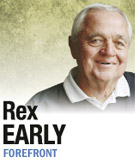 It's nine weeks until the election, and Richard Mourdock from southern Indiana and Joe Donnelly from northwest Indiana are in a barn-burner race for the Senate seat. I am going to vote for Mourdock because I like his "tell it like it is" style, much like my all-time best Indiana senator, William Ezra Jenner.
Jenner was also from southern Indiana, (Marengo, population 800). Let me tell you about Jenner.
I remember his last speech as a senator when he took the floor of the Senate and pronounced, "A government with too much money to spend destroys the society it governs. I say the American people are being pushed in the direction of catastrophic inflation by wild-eyed socialists, ambitious intellectuals, power-seeking demagogues and hidden communists."
Those were the words of Jenner in 1958, and somehow he must have known about the Obama presidency.
Jenner was idolized by constituents who pictured him as a great patriot, and a courageous and militant battler for American sovereignty and the preservation of the U.S. Constitution.
He served in the Indiana Senate and was President Pro Tempore at the outbreak of World War II. Jenner resigned from his seat and joined the Army.
While still in the Army and in a military hospital, Jenner was elected to the U.S. Senate to serve out the 14 months of the unexpired term of Sen. Frederick Van Nuys, who died while in office.
After serving out Van Nuys' term, Jenner ran for the Senate and was elected in 1946 and 1952. He didn't run in 1958 because he wanted his family to grow up in Indiana.
Jenner was a "no back down" guy. He would never compromise on his conservative principals.
In 1952 at the Republican National Convention, Indiana, with Jenner's leadership, was for the conservative candidate, Robert Taft. Taft lost to the more liberal Eisenhower.
It was protocol, after the vote count, for the speaker to call for another state roll call at which all the states would make the vote unanimous. When the speaker called out Indiana, the Indiana chairman declared "Indiana is still for Taft." Not only did Indiana not make the vote unanimous, but the Indiana chairman, Clark Springer, grabbed the Indiana standard and broke it in two over his knee. There would be no Indiana standard in the Eisenhower celebration demonstration. (Politics was fun then.)
Jenner's fight with President Eisenhower over the nomination of Cale Holder as a federal judge was legendary. It lasted for months. The Eisenhower administration even hired one of Indianapolis' largest law firms to find anything negative about Holder. It couldn't. Finally, Eisenhower nominated Holder for the federal bench. Jenner had been able to hold up the hearing for any federal judge until Holder was nominated.
Holder was a great federal judge who passed away in 1983. Jenner never forgot a friend or an enemy.
Jenner was known for his fiery speeches. An Indianapolis Times reporter said, "He rang the rafters with blood-and-thunder political speeches. He wrapped himself with the American flag and charged that mysterious people in high places were undermining and subverting the country."
Back to our Senate race, I think Murdock has a lot of Jenner's fire in the belly.
I find it unbelievable that a few Republicans have decided they will not support Murdock. Several have been successful in our great country of opportunity. Are they going to vote for a candidate who twice voted for Pelosi to be the speaker of the house?
These fair-weather friends, who were upset when Lugar lost, could very well end up with Donnelly being the 51st vote for Harry Reid and his tax-raising programs.
I am sure that they will be proud if that happens.•
• Early served in the Indiana House and as a Republican state chairman, as well as on the Republican National Committee. Send comments on this column to ibjedit@ibj.com.
Please enable JavaScript to view this content.