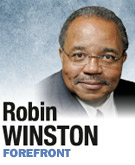 I am the parent of a seventh-grader who looks forward to this school year with excitement, hope and a sense of optimism. Unfortunately, many of her peers do not share those thoughts. I am particularly concerned about African-American males.
We have all heard the rhetoric and the statistics that an African-American male has a higher probability of being in prison than in college. We have reviewed the statistics that point out the achievement gaps between African-American males and other students.
Some believe that gap exists almost from birth and is destined to continue throughout their lives.
Look at some national trends. In many school districts, African-American male graduation rates are less than 50 percent. This does not count the large number of African-American males who drop out. Lack of education is directly tied to the inability to find suitable work and continue post-secondary education, and it limits choices for these young men.
Basically, by leaving these young men behind, we are creating an underclass that will not be able to compete in the global economy.
What can we do?
First, support our educators. When I was in school, teachers were admired, and in some cases revered, by those of us in their classrooms. Demonstrating to these young men that they are part of an educational system composed of excellent and experienced teachers might provide the inducement to learn, to respect, and most importantly, to graduate. We need to emphasize the success of students in academics more than athletics.
We also need to make the schools a focal point of community outreach. Why have not-for-profits that provide youth programs struggled to make ends meet when a school with new athletic and community facilities sits idle?
Second, we need to help parents. All too often the correlation of failing student is directly tied to single-parents and/or absentee parents. In many cases, our young African-American men are being raised by grandparents or unfortunately learning life experiences from the street.
Combating this will require an influx of volunteers from the public and private sectors to support these young men and their parents at school and in some cases after school. Wouldn't it be a great collaboration if we could demonstrate a commitment to volunteerism in our schools equivalent to volunteering for the Super Bowl and the mini-marathon?
Our faith-based community should become a partner in that effort and we need to enlist those who attest to family values in their political leanings.
Third, we need public policy that shifts the focus to support of programs that address poverty and illiteracy. Far too many of our children live in poverty, lack access to nutritional food outlets, are being raised by a parent without formal education and live in neighborhoods plagued by violence.
Our elected and appointed officials need to work at state and local levels to address these issues. There is not a Republican or a Democratic way to consistently address these issues. Rather than blame the other side, let us begin to make incremental steps to eradicate these issues.
Fourth, we need to "man up." I make this pitch directly to the fathers of our young African-American males. Our young men need a father figure to provide emotional support, direction and help with development of verbal and math skills. They do not need to get their role models through video games and/or television. It does take a village to raise a child—but you have to be in the village.
Investing in our young African-American males will require a sustained commitment from all of us. Frederick Douglass said it best: "It is easier to build strong children than to repair broken men." Let us start today.•
• Winston is president of Winston/Terrell Group, an Indianapolis-based government affairs, public outreach and community relations firm. He was chairman of the Indiana Democratic Party from 1999-2001. Send comments on this column to ibjedit@ibj.com.
Please enable JavaScript to view this content.