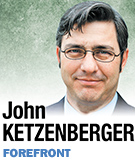 Mr. Chapman lived across the street from my elementary school, in a ramshackle house behind the candy store.
I'd seen him around, but never met him until I started to deliver the Auburn Evening Star along 15th Street. That's when I was in middle school. I had 56 paying customers, a modest-sized route, and they paid $1.10 per week for the Twilight Twinkle.
But I got 58 papers in my bundle, papers the regional route supervisor called samples, though I never really understood what he meant. The guy who ceded me the route said he kept one of the freebies for his parents and gave the other to Mr. Chapman. I didn't ask why. He was in high school—the fact he even talked to me blew my 13-year-old mind.
So I tossed a paper onto Mr. Chapman's porch every evening, just like I did all the others. Every now and then the old man would call me aside. He'd trudge over to where I straddled my custom green Schwinn with its slick tire and a sissy bar, and dump some loose change into my hands.
And he'd thank me for delivering the news to him.
People don't place that kind of value on the news anymore. Today, we're more like the guy that lived a few doors down. I'd ring the bell at this guy's place to collect the bill and, most times, I'd hear footsteps but get no answer. Pretty soon $1.10 was $8.80 and he was cutting into my profit.
Since I started gathering the news instead of delivering it, the newspaper game has changed. Corporations that snatched up a lot of newspapers overpaid at the same time their advertisers were consolidating. Now these newspaper corporations have to service this debt with a fraction of their old advertising revenue.
About this time, too, newspapers started giving away their "product," the news, on the World Wide Web. So the public soon placed the same value on the product the producers did: zero.
It doesn't take a business school education to realize what has happened over the last 15 years. These two trends crossed and cost containment became the corporate strategy. They had immediate concerns with shareholders, so figuring out how to increase revenue took a back seat to cutting expenses.
A newspaper's two major expenses are the printing press and the people who produce the words that fill the pages that press produces. It's not a surprise, then, that reporters and editors were fired. Those who managed to stick around endured pay cuts and the threat that they might not survive the next round of firings.
Now you can see the spiral caused by cutting those who produce the news while still trying to satisfy advertisers and the public. Coverage suffered, which allowed those who cancelled their subscriptions to rationalize their decisions. Meanwhile, newspapers continued to devalue their product by giving it away on the Internet in an attempt to show advertisers that they still had an audience.
I am neither defending newspaper management, nor casting aspersion on it. The industry, though, has failed in its attempt to adapt in the digital age. It has not convinced the public that news has value, even though the remaining reporters uncover important information about how we're governed—or not—and stories about those who uplift our community or who seek to drag it down.
Without this information we're unable to make independent choices in self-governance or our daily lives. We're content to divide ourselves and accept or reject—never compromise—whatever our leaders or their partisan handlers offer up.
At least Mr. Chapman placed a value on the news and thanked me for delivering it.•
• Ketzenberger is president of the Indiana Fiscal Policy Institute, a not-for-profit dedicated to non-partisan research into the state's tax policies and budget practices. Send comments on this column to ibjedit@ibj.com.
Please enable JavaScript to view this content.