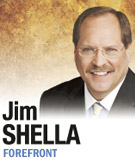 Mitch Daniels is leaving office because of a term limit. As he departs at the end of his second four-year hitch, a recent independent poll placed the Daniels approval rating at 66 percent, showing a large majority of voters still approve of the job he's doing.
But he still has to quit.
There's been no move to change the term limit for his benefit, as we saw when Bill Hudnut decided to seek a third term as mayor of Indianapolis. The Hudnut Forever Bill made it possible for him to remain in office, with voter approval. Now, there is speculation that Mayor Gregg Ballard may seek a third term when his second go-round is completed in 2015.
So let's talk about term limits. They come from the belief that change is good and absolute power corrupts. Are they always appropriate?
There are no term limits in Congress, and there may be no need for any, even though Dick Lugar will serve a total of 36 years by the time he leaves office early next year. Lugar's statesmanlike service was an argument against term limits for most of his tenure. His ouster in the May GOP primary is an argument that voters can decide for themselves when it's time to send a politician packing.
In Congress, 1st District Democrat Pete Visclosky is in his 28th year in office and going strong. The rest of the Indiana delegation, however, is short on seniority and it's going to get worse. Joe Donnelly is leaving in a Senate bid. Mike Pence is leaving in a bid to become governor. Dan Burton is retiring to avoid the fate that met Lugar.
Their successors will join Todd Rokita, Larry Bucshon, Marlin Stutzman and Todd Young, who are all in their first full terms. André Carson is in just his second full term. We'll soon learn how well newcomers can deliver for their constituents, and we'll learn that without help from a term limit.
The General Assembly has no term limit but it does provide plenty of lessons on how the system works without one. In recent elections Senate President Pro Tem Robert Garton and Senate Finance Committee Chairman Larry Borst were defeated when voters decided they had misused power. They are experiences that have caused other senators to pay closer attention to constituent needs for fear that a primary opponent will soon greet them.
The Indiana House of Representatives will welcome at least 19 new members this year and the 100-member body may have as many as 40 who are in a first or second term once the election is held. There is plenty of new blood and maybe even a shortage of meaningful experience in some areas.
Gerrymandering that makes it possible for subpar lawmakers to win re-election in safe districts is the best argument for term limits in my book, but the last redistricting here in Indiana helped eliminate some of that.
So let's get back to where we started. Should there be a term limit on Indiana governors? Not every state has one. Heck, we don't even have a term limit on the lieutenant governor. Mike Pence could have chosen Becky Skillman to be his running mate.
I am not trying to advocate for a third term in office for Daniels, by the way. He can do that himself if he so desires, and he has not. I'm merely suggesting that voters can make these decisions and I find it curious how a term limit applies to some offices and not to others.
Here's what I found out while researching this column, however. A two-term Indiana governor can be re-elected after sitting out at least four years.
Do you think Mitch knows that?•
• Shella is WISH-TV Channel 8's political reporter as well as host and producer of the Emmy-nominated "Indiana Week in Review." Send comments on this column to ibjedit@ibj.com.
Please enable JavaScript to view this content.