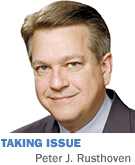 Poor John Gregg. Last we checked, our Democratic gubernatorial candidate was quoting some article supposedly showing his GOP opponent Mike Pence was an "extremist." Only problems were that the article was 20 years old, and the author wasn't Pence.
Gregg's still saying the same thing, and not much else. Google "John Gregg" and up pops the link to his campaign website. Of the rotating tag lines below, the two most frequent are, "Don't let Congressman Pence force his extreme plan on Indiana" and, "Stop Congressman Mike Pence's extreme plan for Indiana!" Not sure what that "plan" is, but "extreme" sure sounds bad.
The site itself displays further "Pence obsession" symptoms. Half the videos on the "Media" page are negative spots featuring the name Pence. Then there's the link to "Clip 'N Curl," the second TV ad the cash-strapped Gregg has been able to run.
The ad shows Gregg against a backdrop of women under old-fashioned hair dryers at a beauty salon. It's a revealing spot, showing a candidate in love with his persona. In Gregg's case, that's "Mr. Folksy," just a down-home Hoosier boy who's not like them other political fellas.
More revealing is the message. Gregg's talking, but the ladies aren't listening because (Gregg tells us) they don't want to hear anymore from Mike Pence, including how he "led the fight to end funding for Planned Parenthood's cancer screenings for women."
Well, gosh, Mr. Folksy, I don't want to hear about that, either. Mainly because it's a lie.
Whatever else Planned Parenthood does, it is the nation's largest abortion provider. Most Americans, including many who are pro-choice, don't think taxpayer dollars should fund abortion. A House majority that included Pence and several Democrats voted to cut off such funding. It's absurd to call this a "fight" against "cancer screenings for women."
Abortion and other divisive issues can be addressed seriously or stupidly. An example of the latter is Missouri GOP Senate candidate Todd Akin saying that in "legitimate rape," the "female body has ways to shut down" from getting pregnant. Really, Dr. Akin? The only scientific truth lurking in that comment is that the "Biden gene" occurs in both parties.
By contrast, here's an example of talking about life issues like an adult, in a way reasonable adults on both sides can respect. Full disclosure here: This is from a Hoosier congressman I admire, now running for statewide office. Here's his statement:
"In keeping with my personal faith and family values, I oppose abortion and believe that government policies should encourage life at all times. I believe that being pro-life means promoting life at every stage, from conception until natural death. I have always and will continue to vote according to my faith and my conscience on life issues."
This congressman opposes taxpayer funding for Planned Parenthood and other abortion providers. He co-sponsored legislation to prohibit taking minors across state lines for an abortion to circumvent laws requiring parental involvement in a minor's decision. He also opposes human embryonic stem cell research.
Sounds like Pence. But—as I promised full disclosure—you should know it's not. It's Joe Donnelly, now the Democratic candidate for U.S. senator.
So, a few questions for Gregg, who claims to be pro-life himself. Is Donnelly an "extremist"? Is he now trying to "impose his extreme plan" on the Senate? Did Donnelly help "lead the fight to end funding for cancer screenings for women"?
John Boy, y'all be just as folksy as you want in responding. But answer the questions.•
__________
Rusthoven, an Indianapolis attorney and graduate of Harvard College and Harvard Law School, was associate counsel to President Reagan. Send comments on this column to ibjedit@ibj.com.
Please enable JavaScript to view this content.