Another Indy Fringe festival has come and gone, and one of the most striking things for me this year was the lack of "must miss" shows. In a field of 56 separate productions, that's pretty remarkable.
Let me backtrack a second.
First, in case you aren't up to speed, Indy Fringe is a 10-day festival in August featuring the aforementioned 56 shows on seven stages. Unlike juried festivals, acts at Indy Fringe are not booked based on their perceived quality. In fact, Fringe organizers have no idea what the applicants will be doing.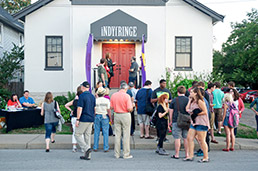 The Indy Fringe Building on St. Clair St. is a hub for Fringe activity. (Photo Courtesy of Daniel Axler)
Slots in the festival go to anyone who signs on and pays the entry fee early (with some allowances to ensure a mix of local and out-of-town acts). Want to tap dance while spinning plates? Go for it. Have a production of a Sophocles play your troupe wants to try? That's fine, as long as you can do it in under an hour and clean up in 10 minutes so the next show can set up.
No surprise that, in the past, there have always been a few duds. Even when I've managed to dodge those bullets, patrons often stop me on Mass Ave during Indy Fringe to tell me what they've suffered through in search of the good stuff.
Well, this year, I didn't hear any of that, even from Fringe fanatics—and there seem to be more of them each year—who see a dozen or more shows over the course of the fest.
Having seen only six shows this year (besides the one I helped create), I don't have enough data to conclude that the fest has gotten better. But that's a possibility. It could be that theatrical Darwinism pushed producers who have had critical and box office hits to return while those responsible for critical and box office duds disappeared. And as the fest continues to grow,
it could be attracting more committed acts, motivating them to sign up before all the slots are gone.
Another possibility is that audiences are getting better at making choices and anticipating what they may or may not like. They certainly aren't guided exclusively by critics. Nuvo Newsweekly is the only publication that exhaustively hits every show—and much of the blog commentary is puffery.
Could it be that we are getting softer—that Fringe audiences have become more tolerant of the presentations that miss the mark? Does our Hoosier niceness come through even when we've suffered through waste-of-even-10-bucks productions?
For some reason, I don't think that's the case—at least not for the person-on-the-street Fringe attendee.
Whatever the case, I hope the success of this year's Indy Fringe (not just by virtue of its relative lack of duds but by more ticket sales, more money returned to acts, more sold-out shows) doesn't mean more conservative choices. Part of what makes a Fringe Fest special is that artists are willing to take risks rather than just programming what they know an audience will respond to.
Risk-taking, though, doesn't have to mean pushing envelopes. The highlight of what I saw at this year's fest, for instance, came from No Exit, an Indy-based company best known for some pretty somber work, including the entire Oedipus trilogy staged at the Indianapolis Museum of Art earlier this year.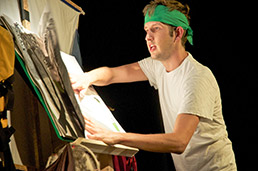 Ryan Mullins stars in "I am Peter Pan." (Photo Courtesy of Daniel Axler)
At Indy Fringe, No Exit stretched by doing something charming, sincere and (shock!) sweet: "I am Peter Pan," a one-man play about a boy wrestling with his father's illness by going on imagined adventures to Neverland. 
Directed and devised by Butler grad Michael Burke and anchored by a joyful and sad tour-de-force performance by Ryan Mullins, the show featured a relentlessly smile-inducing first half, hitting some dramaturgical snags but ending with raw emotional power. I'm not convinced all the elements quite fit together, but I laughed. I cried. And my anticipation for more No Exit productions increased dramatically.
I'm proud to be in a town with a Fringe fest that can make "I am Peter Pan" into a high-flying hit.
And, OK, there was a dud of an out-of-town improv group this year, but I've already forgotten its name.•
__________
This column appears weekly. Send information on upcoming arts and entertainment events to lharry@ibj.com.
 
Please enable JavaScript to view this content.