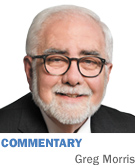 The announcement was made back in May and IBJ reported on it again in last week's paper. However, I want to highlight WXIN-TV Channel 59's expanded news coverage in the 6 p.m. hour, Monday-Friday, which starts airing this week. It's the latest expansion of news at Fox 59 and the move is significant.
Fox 59, owned by Tribune Broadcasting, is IBJ's television news-gathering partner. I couldn't be more pleased with how that relationship has developed over the past five years. IBJ and Fox 59 officially started working collaboratively in May 2007. Jerry Martin was the general manager at the time and I found him to be serious about the desire to expand Fox 59's news coverage. He was also receptive to new ideas for collaboration.
Our partnership was progressing nicely when Lee Rosenthal arrived on the scene as news director in January 2009. Things really started to take off under his leadership. Lee is a bright and energetic young "thirty something." (He was recognized as an IBJ 40 Under 40 honoree earlier this year.) He came to Indy from CBS affiliate WBNS-TV in Columbus, Ohio, where he was an executive producer.
Then, picking up the ball and running hard with it, Larry Delia, current vice president/general manager, replaced the departing Jerry Martin in April 2011. Larry came from similar positions at Tribune stations in Harrisburg, Pa., and New Orleans. He certainly was no stranger to building news departments before he arrived at Fox 59. At WPMT-TV in Harrisburg, Larry oversaw the expansion of local news offerings from 17 hours a week to 32 hours.
The team of Delia, Rosenthal and News Operations Manager Rob Gordon, and of course the entire on-air and behind-the-scenes news staff, has put some impressive numbers on the board. Numbers in the form of ratings, and ratings translate to revenue.
In the last May sweeps period, over the course of the three-book season average by Nielsen Co., WXIN was No. 1 in the coveted 25-to-54-year-old demographic for morning and late news. Fox 59 Morning News was No. 1 in this demo at 4:30 a.m., 5 a.m. and 5:30 a.m. It pulled within 0.3 of a point of WTHR Channel 13 at 6 a.m. And Fox 59 finished No. 1 in the 7-9 a.m. and 9-10 a.m. periods in the age 25-54 demographic. Fox News at 10 p.m. was No. 1 in the late-news period for that demo. Impressive local news ratings for a non-traditional network affiliate.
So, what's significant about adding an extra hour of news, Monday-Friday, at 6 p.m.? What's the big deal? Well, this will be Fox 59's 10th hour of news each weekday. That's 50 hours of weekday news, and it's just shy of half their weekday broadcast schedule. That's about double any other television station's weekday news programming in the market. Since 2009, Fox 59 has increased its locally produced news coverage from 27 hours a week to 60 hours. Those 60 hours make Fox 59 the fifth-largest news producer in the country.
It's interesting that WTHR, WISH-TV Channel 8 and WRTV-TV Channel 6 haven't had another competitor in the 6-6:30 p.m. local news half-hour. We'll have to see how the ratings shake out over time with four stations competing in that half hour versus three. Additionally, there's currently no local TV news broadcast from 6:30-7 p.m. How will Fox 59 fare with its local news up against the network national news programs? I don't know, but it should be fun to watch.
I would be remiss if I didn't mention that WXIN is adding several full-time employees on camera and off to produce its newest newscast. This comes at a time many TV news organizations around the country are cutting back staff. Where bad news has become the norm as far as employment goes, Fox 59 is participating in its own on-air promotional campaign that encourages local businesses to "Add One Job."
It should be obvious that Fox 59 takes its news seriously. So does IBJ. Our combined news-gathering partnership offers the best coverage available to Indy viewers and readers. Thanks for watching Fox 59 and thanks for reading IBJ.•
__________
Morris is publisher of IBJ. His column appears every other week. To comment on this column, send e-mail to [email protected].
Please enable JavaScript to view this content.