We forget.
Which is pretty remarkable when the thing we are forgetting covers more than 3,900 acres and has 22 miles of hiking trails, a pair of nature centers, a beach for swimming, cross-country ski paths and a shooting range.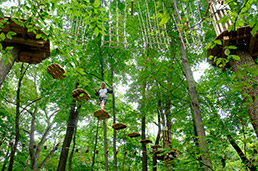 (IBJ Photo/ Perry Reichanadter)
We forget that we've got one of the largest municipal parks in the country and we forget that Eagle Creek Park is beautiful and easy to reach and filled with activity throughout the year. While you can swim, boat, hike or canoe there, for many of us, it's just the pretty place we drive through on the way to Brownsburg.
Well, if nature isn't enough—or if you feel you've been there and done that—then consider experiencing Eagle Creek Park from high up in its branches, as I recently did.
This year, the park added another attraction, and I'm happy to say the addition doesn't detract from the park experience. In fact, it enhances it.
I'm talking about Go Ape, the adventure course that takes participants into the trees to traverse a ropes course punctuated with ziplines and Tarzan swings. I intended to hit the course earlier in the summer, but I'll admit I wimped out. It wasn't the heights I feared or the potential embarrassment of not being able to physically handle the climbs or psychologically handle the swings.
It was just too darn hot.
But, in late August, the heat briefly broke enough to get me up and out … and farther up.
First, of course, there's training. "Always stay connected" is the mantra here, and the friendly but efficient staff near the trailer/office deep in the park (to be replaced by a permanent building soon) makes certain that everyone learns how to hook the omnipresent cables to the not-too-uncomfortable harness. Of course, there's the awkward moment when a guide tells you that what you are about to do could be fatal, but that's the cost of safety for a course where the guides don't hold your hand through the experience. Once up, you are pretty much on your own.
The first of the five Go Ape sections is relatively simple: A short climb up a rope ladder allows you to become familiar with the cables you're attached to, test your wobble-factor on a not-so-high wire, and take a short zipline cruise into a wood-chip landing zone.
So far, so easy. But at 50-feet-up?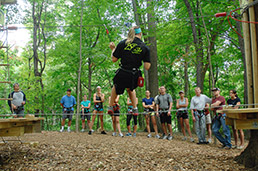 Before hitting the tree tops, trainees are given safety instructions at ground level. (IBJ Photo/ Perry Reichanadter)
Well, to be honest, that wasn't too difficult, either—even for a middle-age, not-in-such-great-shape kind of guy like me. Or for the nearby spunky kid and his grandfather. Or even the most nervous among the gal-pal group I saw. Everyone seemed to be doing fine—and I say "seemed" because, the way the course is laid out, you really don't see much of your fellow travelers unless you want to. With one person on an obstacle at a time and a maximum of three to a platform, the group of trainees quickly spreads out.
The result is both adrenaline-pumping and peaceful. The views are great. And it's sweaty, bruise-producing fun that makes you feel like you are pushing yourself when the reality is that just about everyone succeeds. When there was an option, I took the tougher routes. When a sign appeared suggesting an obstacle be attempted without holding on, I channeled my inner Flying Wallenda. And when it came time to take the Tarzan swing into the giant cargo net—sure, why not? (Toughest moment: Climbing back up the net to get back to the platform.)
I moved at a fairly steady pace, didn't dawdle but didn't rush, and spent about two hours from arrival to taking off my harness. Two invigorating hours.
All in all, Go Ape is a great addition to Eagle Creek Park and to Indiana. If you're tempted (and you've got the $55 plus $5 to get in the park), go for it. Take your kid (10 or over). Take your friends. Take your office if you've got anything in the confidence-building budget. And take your time.
Visit Goape.com/sites/eagle-creek-park for more information.•
__________
This column appears weekly. Send information on upcoming arts and entertainment events to lharry@ibj.com.
Please enable JavaScript to view this content.