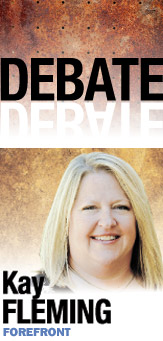 QUESTION: What, if any, legislation in the upcoming General Assembly is most critical for the attorney general to support?
ANSWER: The piece of legislation I believe is most critical is a comprehensive revision of Indiana's criminal code. The last comprehensive revision of the code occurred in 1977. Although there have been some legislative changes since then, our criminal code is terribly outdated.
The revisions should include a comprehensive review of our current code; reworking the definitions of crimes; eliminating or consolidating certain crimes; adding classifications; thoroughly restructuring the penalty structure, including credit provisions; and reviewing the supervised release structure.
• Sex offender registry. A federal court recently found that our sex offender registry is unconstitutional since the Department of Corrections does not provide a method for individuals to seek removal from the list. This problem vividly demonstrates the need for a change, but is only the tip of the iceberg.
The registry is maintained by Indiana's 92 sheriff's offices and the Department of Corrections. Our sheriffs have done an excellent job of updating the registry, given their other responsibilities and strained resources.
However, the Indiana Sheriffs' Association has indicated that a change is needed to ensure the registry meets federal requirements and protects citizens from the threat of recidivism by predators. Our sheriffs need a strong state partner to provide assistance with interpretation of the law.
Thus far, the Department of Corrections has not shown that it has the resources to provide that assistance. As a result, there are differences in the way each county maintains and updates the registry, and sheriffs have questions regarding what the law requires.
I have proposed that the Attorney General's Office be designated the partner for the sheriff's departments and work with the association to develop a methodology that will provide the correct interpretation of our laws and consistency among our counties' registries.
The Attorney General's Office can and should remedy existing problems by offering legal interpretation and assistance with creating consistent registry guidelines.
• Felony classifications. Indiana has four felony classifications and three misdemeanor classifications. This results in situations like a person convicted of a violent rape being incarcerated for the same or a lesser amount of time as a person convicted of a non-violent crime of the same class felony.
It demonstrates a need for additional felony classifications that can take into account considerations such as the violent nature of an offense.
• Credit time/supervised release. Since 1977, many laws providing for additional credit time have reduced the amount of time offenders remain incarcerated. These laws may have been passed to prevent an explosion of inmates within Indiana's prisons. However, as a result of the various credits available, a violent offender may serve only one-third of the original sentence.
It is my understanding that prison populations have remained relatively consistent since 2008, while Indiana is one of the top 10 states for individuals on supervised release.
Supervised release is a good alternative in some cases. As part of the revision of the criminal code, and with many years of experience with supervised revision to draw on, we should review supervised-release policies, what type of supervised release is appropriate, and what is successful.
Supervised release that has no meaningful supervision is not a good alternative to incarceration, especially for those with serious felony convictions.•
• Fleming, a Democrat, is an Indianapolis lawyer running for Indiana attorney general. Send comments on this column to ibjedit@ibj.com.
Please enable JavaScript to view this content.