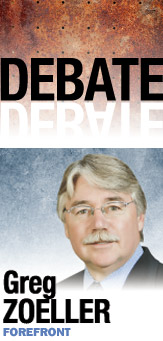 QUESTION: What, if any, legislation in the upcoming General Assembly is most critical for the attorney general to support?
ANSWER: As attorney general, and in my prior position as chief deputy in this office, I understand and appreciate the relationship between the Office of the Attorney General and the General Assembly. Indiana is one of only six states where the office is created by the Legislature and not by the state constitution.
Over the years, I have worked to develop a relationship with legislators, providing counsel to them as clients and working to support their legal needs while also seeking additional authority that may be necessary to perform the functions of this office. This includes statutes to better protect consumers and the most vulnerable among us.
In recent years, I have sought statutory authority to build tools to better protect seniors, to add cell phones to the list for "Do Not Call" protection, to provide greater protections for homeowners facing foreclosure, to protect those facing financial problems, and to add stronger sanctions against human trafficking, just to name a few.
But there can be no doubt that the most vulnerable among us are our children. The current issues facing the Department of Child Services are very difficult. Additional efforts to provide greater protection of children will rightly be the subject of attention by our Legislature.
That is why I will testify at a hearing later this month to offer the services of the OAG.
I am careful to seek legislators' ideas before offering proposals and have therefore reached out to leadership and a number of members involved in the hearings during the past few months with some specific ideas and have sought their input.
The DCS has more than 100 attorneys who serve the agency at hearings in courts at the county level involving children's issues: abuse, neglect, placement and children in need of services. These are difficult cases that I've been told by judges, prosecutors and child advocates could benefit from the independent, professional legal counsel the OAG provides.
In addition, the OAG can coordinate other areas of our state's efforts to protect children. This could include:
1. Working with Indiana's Internet Crimes Against Children task force in assisting law enforcement's efforts to go after online child predators;
2. Providing additional support for the Department of Corrections and sheriffs in strengthening Indiana's sex offender registry;
3. Continuing to work with the U.S. attorney in combating human trafficking that preys on runaway young girls; and
4. Seeking greater state support for school resource officers who both provide security in our schools and help develop stronger relationships between law enforcement and our youth.
These will all require working with legislators, government agencies and others to develop specific roles for the OAG in these areas. The past years of success in performing duties as authorized by the General Assembly have developed some credibility among legislators, our clients in state government, and (I hope) the public.
To assist in this effort, I will begin by creating a working group within the OAG on "Child Protection Services." This team will work with all those involved to draft proposals for legislators' consideration that will offer support and greater coordination for Indiana's effort to serve the most vulnerable among us—our children.•
• Zoeller is running for re-election as Indiana attorney general. He is a Republican. Send comments on this column to ibjedit@ibj.com.
Please enable JavaScript to view this content.