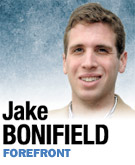 Football season is here, bringing with it swelled TV audiences, increased tax revenue for Indianapolis, filled seats in Lucas Oil Stadium, and frustrated fans across the state. For many, their frustration will likely catch them by surprise and have nothing to do with Andrew Luck's accuracy or holes in the Indianapolis Colts defense.
It will instead arise in an arcane Indiana tradition called "blue laws." The term is used to describe laws that enforce a religious standard. They are rare in 21st century America, most remaining on the books more from inertia than the will of voters.
Indiana's prohibition against all carryout alcohol sales on Sundays is one such law, and if anecdotal evidence is any indication, it's well past its zenith of popular support. The debate over carryout alcohol sales was renewed in February when Indianapolis hosted the Super Bowl. Then, in May, Connecticut rolled back a similar law, leaving Indiana as the only state with a full ban on Sunday carryout alcohol sales.
With the success of the Super Bowl in our rearview mirror and the prospect of greater exposure and growth on the horizon, it is time to re-examine this law. The political obstacles to repeal are not insignificant, but the framing of the issue is key for either side.
In a letter to the editor of the Washington Times, the president of Indiana's beverage retailer association made a bizarre comparison. After asserting, without statistics or much in the way of a cogent argument, that Connecticut was misguided in no longer restricting Sunday sales, he invoked a reliable crowd-pleaser: We don't want to become California (and, in case soaring deficits and traffic jams weren't enough, he was sure to remind readers that this is a "liberal" state, thus self-evidently flawed).
What made the comparison odd was that he was arguing against deregulation, hardly something conservatives are comfortable deriding, let alone ceding as a liberal idea. His opposition, however awkwardly framed, speaks to the need for policymakers to consider alternatives to a full repeal that would move us closer to 21st century laws while avoiding a muddled debate.
The so-called "local option" is a potentially viable modification, one embraced by Georgia that would allow individual counties to choose whether to adopt a ban. This patchwork policy seems less preferable to a change in state law, but the accommodation would be a stepping stone to more reasonable policy and would also play to the tendency of the General Assembly to value "home rule" over top-down mandates.
As for the concerns of small package stores, let's take a look at the rationale. Many local store owners and their surrogates submit that allowing Sunday alcohol sales would force them to stay open seven days a week and somehow exacerbate the advantage big retailers have over mom-and-pop liquor sellers. In other words, they are in favor of limiting competition to save their businesses.
Not only is this a folly of a long-term strategy, but it is on its face heretical to the values and rhetoric of free-market, pro-competition conservatism. To say nothing of the potential for millions more in revenue for a state and local governments in need of an infusion, the idea that one less day of competition will save local businesses is misguided.
If anything, a day closed for a local liquor store is another day for its competitors in the grocery business to remain open, enjoy sales of non-liquor goods, and further leverage their advantage.
At the very least, the issue of alcohol sales merits a sober debate, complete with an honest accounting of the costs and potential impacts of repeal.•
• Bonifield is a senior political science major at DePauw University and president of Hoosier Youth Advocacy, an organization focused on increasing youth participation in the Indiana General Assembly. Send comments on this column to ibjedit@ibj.com.
Please enable JavaScript to view this content.