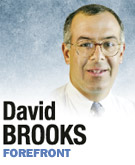 Over the past few weeks, I've been to two party conventions filled with people who think all of America is just like them.
The Republicans talked as if everybody in America has started a small business or wants to. They celebrated a certain ideal type. This person started with nothing, built a company and thrives in the globalized economy where the sword of competition forces relentless innovation.
The Republicans believe their success in this rigorous arena has earned them a certain respect. The reforms they champion would make social insurance look more like the market. They would cut costs and cultivate self-reliance.
The Republicans' political problem is that most Americans don't want every aspect of life to look like the market. At their convention, the Republicans left a policy vacuum that Bill Clinton was more than happy to devastatingly fill.
The Democrats rally around a different ideal. The life they celebrated in Charlotte, N.C., was akin to the lives led by Barack and Michelle Obama, Bill and Hillary Clinton and Elizabeth Warren. This person started in an ordinary middle- or working-class home but through education rose to become a teacher, lawyer, government worker, health care provider or some sort of professional.
The big rise in this life is not a move up in economic class. It's a move up in social status—from a life where one's conditions and lifestyle are imposed on you.
One of the striking features of the Democratic convention was that between 7 and 10 o'clock, when the party was appealing to its activists, social issues overshadowed economic ones. Any time a speaker mentioned the tools of social empowerment— reproductive rights, same-sex marriage, contraceptive freedom—the crowd rose to its feet with a roar. Sandra Fluke is closer to the heart of this party than John Maynard Keynes.
The first political problem for Democrats is that a majority of Americans don't want to be like them, either. Democrats have an indifference to business and an attachment to lifestyle libertarianism that is off-putting to American majorities.
Their second political problem is that the Democratic Party is inert. The party spent the years from the New Deal until Obamacare constructing a welfare state. That project is now finished, and today the party is dedicated to defending government in all its forms.
The Democrats' big advantage is that they have nonsolipsists at the top of their party. The Democrats have a leadership class of Clintons and Obamas who are better at reaching beyond the epistemic closure of their own tribe than anybody in the GOP.
The Republicans had better speeches during the first three hours of their convention nights. But, in the crucial hour from 10 to 11 o'clock, when the wider country pays attention, the Democrats crushed the opposition. Michelle Obama wrapped a Regular American story line around her Harvard Law degree better than Ann Romney could wrap one around Mitt's Harvard Law degree. Bill Clinton offered more policy substance than Paul Ryan and was more trans-partisan about it.
Barack Obama has never actually taken the bold step and offered a growth and debt-reduction package that borrows from the best of left and right, but he always seems like he is about to.
We have two parties that are really into themselves. But Clinton and Obama are able to project balance. The next president has to do three big things, which are in tension with one another: increase growth, reduce debt and increase social equity. The Democrats offer no actual plan, but Obama at least offers a vague whiff that he'd be capable of navigating these crosscutting challenges. Romney offers one-sided change that is nerve-rackingly out of balance.
That's why Democrats emerge from the convention season as favorites.•
• Brooks is a New York Times columnist. Send comments on this column to ibjedit@ibj.com.
Please enable JavaScript to view this content.