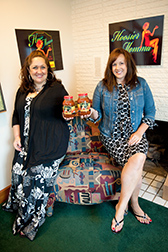 Erin Edds, left, and KC Cranfill have Hoosier Momma products in seven Midwestern states. (IBJ file photo)
For a company committed to slow-but-steady growth, locally based Hoosier Momma has built some enviable momentum.
The Bloody Mary mix that got the firm started in 2010 now is just one of several products available in more than 900 locations in seven Midwestern states, including retail chains Wal-Mart, Meijer and Kroger.
Sponsorship deals with the Indianapolis Motor Speedway, Ed Carpenter Racing and the Indianapolis Colts—the Colts agreement just unveiled this month—have raised the company's public profile, boosting sales along with its owners' ambitions.
"If we don't have 20 things going on at once, it's almost like we don't have anything going on," said KC Cranfill, who owns the firm with partners Erin Edds and Casey "Cat" Hill.
Indeed, Hoosier Momma was a bar standard at several high-profile events during Super Bowl XLVI in Indianapolis and its signature product was the "official Bloody Mary mix" of the 2012 Kentucky Derby Festival.
Cranfill said the IMS and Colts deals help introduce Hoosier Momma to new audiences.
"We're excited about the partnerships and the direction we're going," she said.
Hoosier Momma certainly is moving forward. The company in May rolled out two new products: Key Lime Margarita Maker and Strawberry Rhubarb Cocktail Maker.
Despite the early success, the partners said they're in no hurry to add flavors or markets.
"Now it's time to hold on tight and see what happens," Edds said. "We're more interested in slow, sustained growth."
Please enable JavaScript to view this content.