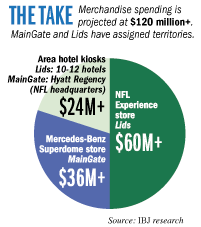 A pair of Indianapolis-based companies recently scored the largest single-event deal in the world of U.S. sports licensing.

MainGate Inc. and Lids Sports Group unseated California-based Facilities Merchandising Inc.—a 24-year incumbent—to win lucrative merchandising deals at the 2013 Super Bowl in New Orleans.

"For us, this deal isn't just about the money," said John DeWaal, Lids marketing director. "It's a statement for us. It's a good progression and sign of how we're growing our business."

The one-year deals with MainGate and Lids were finalized last month, NFL officials said.

FMI had been the sole merchandiser for the last 23 Super Bowls leading up to Indianapolis, NFL officials believe. But Lids and MainGate—who are not working jointly—got a foot in the door at Super Bowl XLVI here.

Bidding for the Super Bowl merchandise contract was "very stiff," with multiple bidders not winning any of the business, said Leo Kane, the NFL's vice president of consumer products.

"All of the bids were very, very compelling," Kane said. "What ended up winning the day for Lids and MainGate was the innovation they showed at the Super Bowl in Indianapolis.

"We were very impressed with the new technology, the new merchandising techniques, and the new sales and data reporting these companies demonstrated," Kane said.

At the 2012 Super Bowl, Lids turned heads with its operation at the 23,000-square-foot temporary store inside the vacant Circle Centre Nordstrom space. MainGate ran the store at the exclusive NFL House—a VIP getaway inside Union Station—and at merchandise kiosks at 11 downtown hotels and two area malls. FMI held onto the lucrative contract to run the stores at Lucas Oil Stadium and the NFL Experience.
IBJ.COM EXTRA
Click here
to see how Lids pulled together 450 employees from across the country to make a splash at last year's Super Bowl.
In New Orleans, MainGate will operate the store at the Mercedes-Benz Superdome and at the Hyatt Regency New Orleans, the NFL headquarters hotel.

Lids, which was formed as Hat World in 1995, will run the 30,000-square-foot store at the NFL Experience at the Ernest N. Morial Convention Center. Lids also will handle merchandising at kiosks at 10 to 12 New Orleans hotels.

Though the NFL doesn't release precise figures for Super Bowl merchandise sales, Kane said it's been near $200 million in recent years in the two weeks leading up to the game in the host city and in the cities of the two participating teams.

Those familiar with NFL merchandising said more than $120 million of that is sold in the host city—about half at the NFL Experience store, about 30 percent at the stadium store, and 20 percent at hotel kiosks.

Though MainGate CEO Dave Moroknek said he couldn't discuss the pact, in March he said a Super Bowl merchandise deal involving the stadium could be one of the 49-year-old company's top five pieces of business.

In 2011, MainGate had $60 million in revenue and its accounts included Harley-Davidson, NASCAR driver Danica Patrick, the Indiana Pacers, Houston Rockets, the newly named Brooklyn Nets, Indianapolis Colts, Washington Redskins and the National Hot Rod Association.

Sources with knowledge of the Super Bowl agreements said profits for both Indianapolis companies could be seven figures, adding that Lids' slice will likely be a bit larger than MainGate's.

"The NFL and the Super Bowl are by far the hottest U.S. sports properties there are and show no signs of slowing growth," said Bob McGee, editor of Sporting Goods Intelligence, a Pennsylvania-based trade publication. "Even though this is just one event, it's a huge piece of business."

Big Apple, big payday

And there could be even more at stake in New Orleans.

The 2014 Super Bowl, hosted by New York/New Jersey, is expected to be far more lucrative than any of the 47 preceding it. The two Indianapolis companies' performance in the Big Easy could determine the role they play in the Big Apple.

"The first Super Bowl in New York will be epic for sure, so we want to make sure we have the best merchandise model to take advantage of that," Kane said. "We're doing some experimenting with our merchandising model this year, so we're going to be keeping a close eye on how this turns out."

Kane said that, after the New Orleans Super Bowl, the NFL could sign a multiyear merchandising deal that would run through two especially important Super Bowls for the league and its corporate partners.

"New York will have its challenges and opportunities," he said. "It's important that we have the best model in place not only for New York but as we approach our 50th Super Bowl."

Sports merchandising experts and sources within the NFL said merchandise sales could easily be 30 percent higher in New York than for any other Super Bowl due to the city's population and the throng of visitors the event is expected to attract.

Friends or foes?

While MainGate and Lids were both successful at beating out incumbent FMI, don't expect the two firms to be cheering for each other in New Orleans.

It's no secret among industry sources that the companies are fierce competitors. This year, Lids took over the IndyCar Series deal from MainGate. Both are active in the college arena. Neither would turn down an opportunity to be the lone Super Bowl merchandiser.

While MainGate is a merchandising powerhouse—with bricks and mortar, mobile and online outlets—Lids is the new kid on the block.

Lids' roots in selling licensed goods dates back to 1995. The company entered event merchandising in 2003 by selling goods at baseball's College World Series. Four years ago, it began signing deals to sell on-site sports apparel for colleges, including Auburn, Arizona State, Iowa and Ole Miss.

But when Lids flew in associates from its more than 1,000 stores to run the store in the Nordstrom space, that really caught the NFL's eye.

"What Lids did in Indianapolis was phenomenal," Kane said. "The Nordstrom store was so full of energy and excitement and visually impactful, so we want to see what they can do with the store at the NFL Experience."

"Last year's Super Bowl showed the NFL what we could do in a fast-paced event environment," said Lids' DeWaal. "It was an example of how we could take what we do every day and multiply it, running a store 25 times the size of our normal store's footprint."•