Class B office buildings were never what you'd consider "hot to trot" in the real estate marketplace.

Older and less chic than their gleaming counterparts in the Class A category, these humble properties with stony (often historic) countenances could be counted on as cheaper yet still reliable fallbacks for investors—sort of like taking your aunt to the prom.

Suddenly, however, Class B office buildings downtown are the belles of the ball.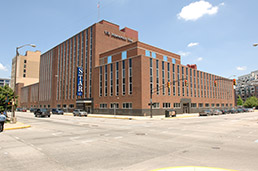 The long-time home of The Indianapolis Star is one of several Class B buildings put up for sale recently. Some buyers are turning buildings in the class into headquarters or apartments. (IBJ file photo)
With property values still depressed by the financial crisis and low-cost financing available for acquisitions and renovations, local real estate investors are taking second looks at these second-tier properties. A few have found them irresistible.

"There are some good opportunities available," said Aasif Bade, president of Ambrose Property Group, which has acquired or is in the process of purchasing three major downtown Class B properties totaling more than 390,000 square feet.

The twist for Ambrose's properties and several others that have changed hands over the last 18 months is that the buyers want them to be more than pure leasable office space. They want them to be homes, of a sort—either as their corporate headquarters or as apartment buildings.

The projects include:

• Indianapolis-based burger chain Steak n Shake has agreed to pay $3.8 million for the six-story Ober Building at 107 S. Pennsylvania St., which will become its new headquarters. The company plans to spend another $2 million to improve the property, built in 1910.

• Public affairs firm The Corydon Group has purchased a vacant three-story building at 125 W. Market St. and plans to occupy the top floor after renovations are finished in early November. An affiliate of the group paid $1.4 million on Aug. 2 for the 17,000-square-foot building, which lost its main tenant in early 2011.

• A pair of local real estate firms purchased the 10-story American Building at 333 N. Pennsylvania St. in February with plans to convert the 95,000-square-foot property into market-rate apartments. Ambrose Property Group and The Whitsett Group expected to spend $7 million to $10 million on retrofitting the 1929 building to accommodate 72 units, with rents between $900 and $1,500.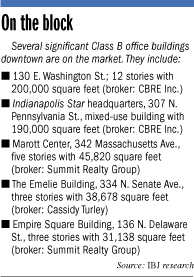 • Whitsett and Ambrose also intend to acquire the 15-story, 186,000-square-foot Consolidated Building just down the street at 115 N. Pennsylvania St. in a deal set to close by the end of the year. Vacant since the late 1990s, the century-old building would house 98 apartments and ground-floor retail space under the developers' $16 million purchase-and-restoration plan.

• Ambrose also is under contract to purchase the 16-story, 110,000-square-foot Circle Tower for $6 million. Under Ambrose's plan, the art deco icon at 55 Monument Circle will remain an office building, and Ambrose likely will move its headquarters into the building from leased space near 96th and Meridian streets, Bade said.

• The Indiana University Foundation purchased the 15,734-square-foot former headquarters of Indiana Landmarks in a deal announced in March 2011. The foundation has moved its offices to the building—an amalgam of an 1874 residence and modern office construction—at 340 W. Michigan St.

Driven by economics

Several economic factors are conspiring to make Class B buildings more desirable, according to local real estate brokers.

Acquisitions screeched to a halt and property values declined during the recession and real estate crisis of the late 2000s. With the economy back on a slow-but-steady climb, discounted Class B buildings seem ripe for the picking.

"The properties are devalued to the point where you can do the acquisition and renovation and make it work financially," said Bill Ehret, president and CEO of Indianapolos-based Summit Realty Group.

Interest rates remain low, and lenders are partial to helping finance projects in which owners want to be occupants, Ehret said. That way, at least some of the space is spoken for.

"Banks are risk-averse, and they don't want to deal with vacancy factors," Ehret said. "If you're doing speculative construction or taking on a highly vacant building, there's not so much interest from the lender."

Summit Realty principals took the plunge in October 2010, purchasing a 30,000-square-foot Class B building at 241 N. Pennsylvania St. to use in part as the firm's headquarters. The acquisition and renovation cost amounted to about $4 million, Ehret said.

"We did want to invest in downtown and be an entrenched part of the community," Ehret said. "There was a little bit of emotion from trying to take an empty building and bring it back alive. And we felt like the acquisition price and project cost were less than for what we could lease space."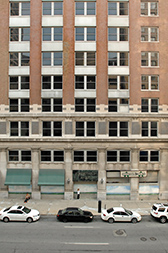 The Consolidated Building at 115 N. Pennsylvania St. boasts a location within a block of three of the biggest office towers in the state. (IBJ file photo)
A lot of firms that lease space are now looking at the option of being owner occupants, said Jon Owens, managing director and principal of Cassidy Turley, who represented The Corydon Group in its purchase of 125 W. Market St.

"You can borrow money inexpensively still, and for tenants who have been renting for a long period of time, it's a pretty attractive option to buy a building, mortgage it, and at the end of the day have a payment that's less than your rent," Owens said.

In addition, contractors still struggling to find clients will offer affordable deals for renovation work, Owens said.

"It's very competitive, and if you bid work, you can get a lot of bang for your buck," he said.

Lenders also are welcoming potential clients with apartment projects, known as "multifamily" in the industry, brokers said. Demand for such developments began to rise as the housing crisis drove owners from their homes.

"The economy has broadened the apartment market," said John Pappas, a principal in Acorn Group. "Some people were no longer able to own homes, either being out of work or having loans above the value of their homes. And now we're seeing young professionals and middle-aged professionals who are interested in moving into the urban market."
The Consolidated Building, earmarked for apartments by Ambrose and Whitsett, is about as urban and professional as downtown Indianapolis gets. It's less than a block from three of the biggest Class A office buildings in the state—Chase Tower, Regions Tower and BMO Plaza.

And demand for multifamily in the urban core appears to be healthy. Downtown's roughly 7,000 apartment units were 94.4-percent occupied in 2011, a gain of 3 percentage points over 2010, according to data from locally based Tikijian Associates.

Creating a building from scratch has drawbacks, including delays created by meeting local zoning and construction-related regulations, said Ross Reller, senior vice president of land brokerage for the local office of Seattle-based Colliers International.

"It becomes a time and cost advantage to seek existing real estate," Reller said. "You ask, what can I do with what's available on the market?"•