A unit of OneAmerica Financial is quietly growing sales of long-term-care insurance through bank channels, signing deals over the last year with national players SunTrust and Wells Fargo.
State Life Insurance Co. now sells fully half of its asset-based, long-term-care products through banks.
The SunTrust and Wells Fargo agreements potentially expand the number of bank advisers selling its products by up to 2,500, the company said.
More bank deals may soon be on the way.
"We have some significant new distribution in the works right now," said Tony Ianni, national sales director for Indianapolis-based OneAmerica.
State Life now has upward of 90 banks selling its products, including Evansville-based Old National and Ohio banks Fifth Third and Huntington.
The other half of its distribution channel consists of financial advisers and brokers, including OneAmerica's career agents.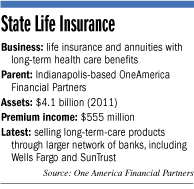 One factor favoring the bank channel is the growing popularity of the type of long-term-care policies State Life has been offering—asset-based, long-term-care products. An industry term for these is "combination products."
Unlike traditional, health-based long-term-care policies that carry annual premiums, combination products usually are bought in one lump sum as a life insurance policy with long-term-care benefits—or as an annuity that can be accessed for long-term-care expenses.
Last year, industry-wide sales of life combination products grew 56 percent, the third consecutive year of double-digit growth, according to LIMRA, a Connecticut-based insurance research and consulting firm.
About 72,000 combination policies were sold last year, or 16 percent of total long-term-care insurance policies and contracts sold in 2011. Total new premium in life combination products was $2.2 billion, LIMRA said.
"It's still a very small market. But [combination] products are being well-received by consumers and advisers," said LIMRA spokeswoman Catherine Theroux.
Consumers reason that, even if they never use the long-term-care benefit of a combination policy, there is still the life insurance or annuity benefit.
Traditional long-term-care insurance often is more comprehensive in its benefits. Sales of individual long-term-care products have struggled over the last decade, however, with carriers such as Allianz Life dropping out. Consumer apathy, economic troubles and rate increases depressed sales.
Ianni said State Life's long-term-care sales are up 20 percent, year-over-year. "We think this is the way long-term-care [insurance] is going."
The bank channel has been effective in part because potential customers are those who already have a relationship with their bank adviser. Banks are ever-intent on growing their financial advisory and commission income and many customers seek more advice as they age.
A long-term-care combination product also can be a relatively easy sell in that the consumer is essentially buying two products in one—long-term-care coverage and the life insurance/annuity benefit.
The banking channel hasn't been especially difficult to support because State Life would still have the expense of selling through member agents, for example, said John Maselli, OneAmerica's regional marketing director.
State Life expanded its product offering seven years ago when parent OneAmerica bought Golden Rule Insurance's financial service division. Golden Rule developed some asset-based, long-term-care policies in the 1980s. In 1999, it struck a product distribution deal through U.S. Bank.
"If there's one thing banks know how to sell, it's fixed annuities," Ianni said.
Not all insurers have embraced the bank model to sell long-term-care insurance. Bankers Life, a Chicago-based unit of Indianapolis-based CNO Financial, sells the policies through its career agents.
About 10,000 Americans turn age 65 each day. The average annual cost of a private nursing home room in Indiana in 2010 was $72,270, according to Prudential Insurance's Long-term Care Cost Study.•
Please enable JavaScript to view this content.