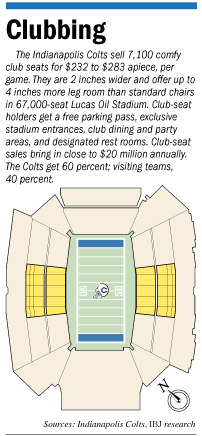 The Indianapolis Colts marketing team is approaching one of its most important scoring opportunities in the last five years.
At the conclusion of this season, five-year contracts for many of Lucas Oil Stadium's 7,100 club seats expire. Other club seats on shorter contracts also expire, pushing the total up for renewal to about two-thirds of club seat capacity.
How the new-look Colts perform this season will dictate whether the team's sales department is facing first and goal or fourth and long.
"It will absolutely make a difference how they play this year on whether we renew or not," said John Keiffner, a 23-year season-ticket holder who has had four club seats since Lucas Oil Stadium opened in 2008.
"Right now, we're thinking hard about getting rid of our tickets," said Keiffner, who pays $232 for each game ticket. "The club seats are a considerable investment, and the prices have gone up and the quality of football has gone down."
Grant Chapman, a local attorney who has four $254 club seats, said he is leaning hard toward renewal after the Colts' home-opening victory over Minnesota Sept. 16, but added that the decision isn't as easy as it used to be.
"Especially with the [Indiana] Pacers and IU [basketball] starting to turn things around, a [Colts] season like last year makes you wonder about your investment," said Chapman, a seven-year season-ticket holder. "It's much harder to shell out the money after a season like last year when there are other options. We've definitely re-evaluated."

Ward
While season-ticket renewals for regular seats generally start in December or January, Colts officials already have started working "behind the scenes" on club-seat renewals, said Colts Chief Operating Officer Pete Ward. He said sales executives will start contacting those up for renewal in the next month or so.
"The selling cycle for a club seat is longer than a regular ticket because the financial commitment for the seat holder is much bigger," said Jim Grinstead, publisher of Tennessee-based trade publication Revenues from Sports Venues. "Especially now, with the economy still weakened, no one anywhere in the NFL is taking club-seat renewals for granted."
There's good reason the Colts are paying close attention to their club clients.
Lucas Oil Stadium has 2,900 more club seats than were in the RCA Dome. The Colts cited the need for more club seats and more suites as key reasons for building the $720 million retractable-roof stadium. Team officials maintain that those revenue-generating amenities keep the small-market franchise competitive.
While the club seats represent less than 11 percent of the 67,000-seat Lucas Oil Stadium capacity, they bring in nearly one-fourth of ticket revenue, not including suites.
In total, the club seats generate nearly $20 million each season. Forty percent of that goes to visiting teams. Concession revenue from the club areas—which sports-business experts estimate is an annual low- to mid-seven-figure sum—stays entirely with the home team.
From 2008-2012, Forbes estimated, the Colts had operating income of $16 million to $62 million. That means that, in a lean year, revenue from club seats can equal more than two-thirds of profit.
The comfy club seats cost $232 to $283 per game—more than twice the price of most other seats.
For that premium, fans get a seat that is 2 inches wider and has up to 4 inches more leg room. The seats are positioned between the 25-yard lines and come with a parking pass, access to an entrance/exit, concession areas, lounges and rest rooms exclusively for club seat holders.
Unlike regular-season tickets, which are renewed each year, Colts officials often seek three- and five-year contracts for their club seats. The price for next season and beyond has not been set, Ward said.
The predictable revenue stream of the club seats "can be used to obtain lines of credit," Grinstead said.
Tougher sell
Some fans say they would be more likely to renew had the team opted to retain popular quarterback Peyton Manning and a slew of other veterans who were cut after last season.
"It makes you wonder about the commitment to winning," Keiffner said. "That's what really bothers me."
Colts officials say club seat renewals were not considered when determining Manning's future. "Those decisions were made for the betterment of the team on the field, which I think is what everybody wants," Ward said.
Mark Rosentraub, a former IUPUI dean and author of several books about sports business, isn't convinced.
"You have to make those player personnel decisions within the context of your market," Rosentraub said. "That's why [owner] Jim Irsay's decision to release Peyton Manning and rebuild the team was even bigger than people realize. With those [club seat] renewals looming, that decision took a lot of guts."
Irsay also fired team President Bill Polian and Coach Jim Caldwell at the end of last season in an effort to completely overhaul the franchise.
Corporate demand
Despite the Colts' difficulty in selling out Lucas Oil Stadium for games this season—including a late push to sell 500 tickets to avoid a television blackout for the Sept. 23 game against Jacksonville—team officials are confident they'll have strong demand for club seats next year.
Ward said there's a waiting list for club seats, but declined to say how long that list is. Following last season's 2-14 debacle, the Colts blew through a waiting list of about 10,000 for regular-season tickets without selling out the stadium.
Demand for premium seats is often higher than for cheaper seats, said Greg Hylton, Colts vice president of premium seating and ticket sales. He added that many who took a pass on tickets this past off-season are waiting for better seats to become available.
While Colts officials said it's too early to gauge demand for club seats in 2013, Ward said, "the only feedback I've gotten [from club seat holders] has been positive."
Indianapolis' status as the league's second-smallest market—only Jacksonville is smaller—means "the Colts have much narrower margins than most markets and have to work pretty hard to sell those club seats," Rosentraub said.
The Colts said they don't track how many club-seat holders are bought by businesses versus individuals. Sports marketers said as many as half to two-thirds of club seats in larger markets go to corporate accounts.
"In Indianapolis, you have fewer corporate headquarters, so you have to rely on more individual sales," Grinstead said. He said fans buying tickets may be more driven by emotion and the team's on-field performance.
Believing in Luck
Chapman is more optimistic than Keiffner that Irsay's rebuilding plans will pay off. Chapman said others sitting around him in the club section also are becoming believers in the Colts and the team's 2012 No. 1 draft pick, Andrew Luck, who led a game-winning drive to beat the Minnesota Vikings.
"We can start to see that the future is going to be pretty bright, and we want to be along for the ride," Chapman said.
The secondary market this season is a likely indicator of how renewal will go later this year and into the next, Grinstead said.
Mike Peduto, principal at Circle City Tickets, is cautiously optimistic.
"Demand for the expensive club seats is nothing like it was during Peyton Manning's heyday, but it sure is a heck of a lot better than it was last season," Peduto said. He said club seats sold for as much as $1,000 and regularly sold for $700 in Manning's prime.
Demand bottomed out once it became clear Manning wouldn't play last year and the Colts tanked, Peduto said. Club seats sold for as low as $75 on the secondary market.
"The demand for club seats fluctuates much more than regular seats," Peduto said. "When it's bad, it's really bad. When it's good, it's very good."
After the victory over Minnesota, Peduto said, demand for club seats ticked up. However, he added, there's still hesitancy to put down big money for the prime real estate. The high-water mark this season, he said, was $550 for a club seat for the Green Bay Packers game Oct. 7.•
Please enable JavaScript to view this content.