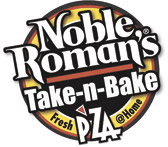 Noble Roman's Inc. has baked up an idea to expand its franchising opportunities nationwide and dramatically increase revenue.

The Indianapolis-based pizza company this month is rolling out plans for a stand-alone, take-and-bake concept designed to rival Papa Murphy's, the Vancouver-based take-and-bake pioneer that has vaulted to fifth among the nation's pizza sellers.

"We think the potential for growth with this concept is tremendous," said Noble Roman's CEO A. Scott Mobley. "Once we get our prototypes up and running, we'll have a better idea how big a slice of our revenue this will be. I wouldn't want to put too small a cap on the potential."

Noble Roman's is finalizing a deal with investors to open three take-and-bake stores on Indianapolis' south side, three on the west side, and one in Carmel, Mobley said. Some, or potentially all, of those stores will be open within 60 days, he added.

Mobley
If the concept is as successful as Noble Roman's officials think it will be, the plan is to start expanding outward from central Indiana next year, Mobley said.

Some industry analysts think it's too early to declare Noble Roman's take-and-bake plan a financial boon. The company has launched several growth initiatives in recent years, but its stock has primarily remained at or below $1.

"The concept looks good, but where's the prototype?" said John A. Gordon, founder and principal of Pacific Management Consulting Group, a California-based restaurant analysis and advisory firm. "Where's the proof this really works?"

That criticism is especially stinging in the wake of a 2008 lawsuit brought by former Noble Roman's franchisees who accused the company of not thoroughly testing its Noble Roman's Pizza and Tuscano's Italian Style Subs format before selling them franchises. That lawsuit was later dismissed by a Hamilton County judge.



Despite questions about Noble Roman's, Gordon, an Indiana University graduate who has followed the pizza maker for more than three decades but doesn't own any of its stock, thinks the new initiative has "strong potential" and is being launched "at the right time." He's not alone.

"This concept fits very nicely with the overall trends with restaurants and food service right now," said Steve Johnson, founder of Foodservice Solutions, a Tacoma, Wash.-based consulting firm. "The restaurant takeout business has gone up each of the last eight years. People want to eat at home, they just don't want to cook."

Papa Murphy's sales have grown at a 10-percent annual clip in recent years—hitting $702 million in 2011—while the $36 billion pizza industry has grown only 1 percent.

Papa Murphy's now has more than 1,300 take-and-bake outlets, and industry analysts think if Noble Roman's executes its take-and-bake rollout successfully, it could reach that size.

Pizzas at Noble Roman's take-and-bake stores—like Papa Murphy's—will be made to order, not frozen, and sold uncooked.

The take-and-bake units will offer Noble Roman's Sicilian and thin crusts and a full range of toppings, plus breadsticks and dip, boneless chicken breast chunks, cookies, pastas and salads. The units also will have a small retail area with houseware items like pizza cutters, rocker knives, oven mitts, aprons, pizza stones and serving trays.

Costs sliced

Noble Roman's ability to keep costs down for take-and-bake franchisees will be key, analysts said.

"I've placed my bet with Noble Roman's to succeed," said Ian Cassel, founder of Pennsylvania-based MicroCapClub, a membership organization composed of investors focused on low-priced stocks issued by small companies. "If they can keep [franchisees'] capital expenditures and operational expenditures as low as they say, it should be an opportunity for significant growth in this company, which I believe will be reflected in an increase in the stock price."

Noble Roman's will charge a $15,000 franchise fee and collect 7 percent of net sales from its take-and-bake operators. Mobley estimates it will cost $60,000 to $100,000 to get a 900-square-foot store open. That's less than half what it costs to launch a Papa Murphy's and less than one-fourth what it would cost to open a carryout pizza outlet.

Take-and-bake operations are generally cheaper to operate because they sidestep the expense of large ovens and cooling and exhaust systems. As a result, monthly operational expenses for electricity, maintenance and rent are much cheaper, Mobley said.

Noble Roman's keeps its costs down further by processing much of its pizza dough at a central plant, Mobley added. Papa Murphy's requires dough-processing equipment at most of its outlets.

Ramped up

Noble Roman's is not entirely new to the take-and-bake arena, which analysts said could speed the growth of this initiative. In 2010, the company started brokering deals to sell uncooked refrigerated pizzas in grocery stores. Today, Noble Roman's pizza is sold in more than 1,400 grocery stores nationwide.

It also has agreements with North Carolina-based The Pantry Inc., a convenience store chain with more than 1,650 locations, and Illinois-based Huck's, a 110-unit convenience store chain in five states including Indiana, Illinois and Kentucky.

"We made that move [to take-and-bake] coming out of the recession when obtaining financing for opening a restaurant was difficult," Mobley said. "It took off like gangbusters and pointed to a desire that customers had to have a high-quality pizzeria-style pizza fresh at home when you want it."

Noble Roman's had 2011 revenue of $7.42 million, and industry analysts think if the new initiative goes well, revenue could increase more than 15 percent within three years.

Though Mobley declined to estimate how many take-and-bake outlets might open in the next few years, Cassel thinks there could be "hundreds nationwide."

Risky business?

Noble Roman's new initiative is low-risk for the company, Johnson said, because franchisees bear most of the risk. But such initiatives are not risk-free, as Noble Roman's discovered when it rolled out its dual-format Noble Roman's Pizza and Tuscano's Italian Style Subs restaurants in 2006.

Disgruntled franchisees with outlets in Kentucky, Missouri and California sought more than $8 million in damages, a sum that could have left Noble Roman's insolvent. The chain, which operates in 45 states, at the time had a market value of just $20 million.

"They were, in fact, the guinea pigs. And that's not what you buy a franchise for," franchisee attorney P. Adam Davis of locally based Davis & Sarbinoff LLP told IBJ in August 2009. "The point is that you're getting a tested and proven concept."

While the case was dismissed in late 2010, industry analysts said the proceedings cost Noble Roman's considerable legal fees and distracted company officials from their focus.

"Unfortunately, you can't prevent anyone from filing a meritless lawsuit," Mobley said. "Noble Roman's has been in the franchising business for a very long time, and, compared to others, I believe Noble Roman's has an outstanding and enviable history in this regard."

The three groups opening the initial seven take-and-bake stores are "headed by experienced, long-term Noble Roman's franchisees," Mobley said. "The franchise group developing three locations on the south side, in addition to being headed by an existing franchisee, is also backed by a group of executives at Noble Roman's Inc."•