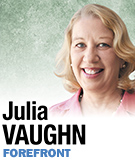 While it is easy to see the effect of the U.S. Supreme Court's ruling in the Citizens United case, since corporate-sponsored political ads have dominated our airwaves for months, it is much more difficult for voters to determine exactly who is paying for these ads.
From now until Nov. 7, we'll be inundated with inflammatory messages sponsored by shadowy groups with innocuous-sounding names like Restore our Future and American Crossroads. Because of Indiana's weak and outdated campaign finance laws, it will be extremely hard to discern who is writing the huge checks that end up in these groups' accounts and finance their messages.
And our state's flimsy laws will enable wealthy interests to ignore the contribution limits already on the books and allow groups prohibited from making political contributions in Indiana an easy way to get their money and influence into state campaigns.
These huge loopholes in our campaign finance laws were fully exposed earlier this year when the Republican Governor's Association's super PAC, called RGA Right Direction, wrote a $1 million check to gubernatorial candidate Mike Pence. While the size of the single contribution in and of itself is cause for concern, that's not the only problem.
The super PAC gets its money primarily from corporate donors, including Indiana-based WellPoint Inc., which has chipped in $1.3 million over the past two years. Right Direction also has gotten $50,000 from New Centaur, the corporate owner of Hoosier Park, the racetrack/casino in Anderson.
Here's the problem: Indiana law says a corporation can't give a gubernatorial candidate more than $5,000 and prohibits gambling interests from making political contributions altogether. So Right Direction provides both of these interests and many others a convenient way to get around the law. And, while Right Direction caused a stir simply because of the size of its check, it is hardly the only vehicle in this shell game.
Indiana's laws simply haven't kept up with the way modern political campaigns are conducted. Our laws are based on the outdated premise that candidates and political parties are the primary election spenders, and increasingly that is not the case. Outside groups, including many that are not even Indiana-based, are spending millions to fund media blitzes and in many cases out-spending even the candidates.
Because of this, major loopholes are being exploited. For example, PACs like Right Direction that are registered at both the state and federal level are not covered by Indiana election law, but PACs registered only in Indiana are subject to the law. So, while a state-based PAC must file itemized reports about the source of its funds, much larger entities based out of state can dump loads of cash into Indiana campaigns anonymously.
It's time for this political money shell game to stop. Indiana's law should be changed to require all entities that spend money to influence elections in our state to disclose where their money comes from. The laws must cover not just candidates, parties, and state and federal PACS, but must also be carefully crafted to require disclosure by trade associations and other not-for-profits that have significantly increased their involvement in the political money game by acting as conduits for corporate cash.
The state also needs to ensure that the law covers all types of political communication, not just ads calling for the election or defeat of a particular candidate. Transparency won't be improved if the focus is only on electioneering, and sham issue ads are ignored.
Hoosier voters shouldn't be expected to make voting decisions without a complete set of facts, including exactly who is spending money to elect or defeat candidates in our state.
Without that information, we're nothing but suckers in a shell game, sure to lose.•
• Vaughn is policy director for Common Cause/Indiana, a nonpartisan citizens lobbying organization that works for open, honest and accountable government. Send comments on this column to ibjedit@ibj.com
Please enable JavaScript to view this content.