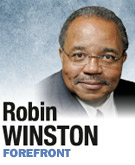 On Nov. 6, all eyes will be on several battleground states. Unfortunately, the pundits will miss one of the most important states that will contribute to an Obama victory—Indiana. While some will debate whether the president will win Indiana (I still contend that he can), keep in mind that several Indiana-related items will play a role in the fall campaign and will have an impact in other parts of the country.
The resurgence of the auto industry is directly tied to the resurgence of jobs in Kokomo at Chrysler. Shifts are full, production is up, and workers are back at work. The unemployment rate in Kokomo has been reduced and the plant has made tangible investments that will increase productivity at the facility.
Obama and Vice President Biden jointly attended an event at Chrysler and highlighted the resurgence, the resilience of the workers and the benefits of the Obama administration's investing in workers via their support of the auto industry.
Where does this matter? In two places not far from Indiana.
Ohio and Michigan both are considered battleground states. In ads and public appearances, the Obama team highlights their support for the auto industry ("Osama Bin Laden is dead and GM is alive").
In addition, voters in these key states are reminded that Mitt Romney editorialized, "Let Detroit go bankrupt" in reference to the auto industry. Those refrains will be echoed at rally after rally in Michigan, Pennsylvania, Ohio and Wisconsin and will be used to reinforce the distance Romney has created between himself and workers in those states.
Second, American Pad and Paper (AMPAD) will be highlighted. This Marion plant will be used to highlight Romney's approach to workers. Romney and his team of investors at Bain merged this small Grant County plant with several other companies. The byproduct of those investments was additional debt forced on the company and a worker buyout program that forced wages down considerably and led to drastic cuts in benefits. The company folded because of the interest payments on its debt. However, Romney and his investors were able to make almost $100 million on the business deal for AMPAD and other companies.
Think that will not resonate with working-class voters in numerous states? Once again, it demonstrates Romney's position on workers and the impact of plant closings in small towns in Indiana. This is not the first time AMPAD has affected national politics. In 1994, AMPAD played a role in Romney's loss to Sen. Ted Kennedy in Massachusetts.
Third, the fact that the president won our state in 2008 still makes Indiana viable as the campaign makes its final turn. Many voters in our state will see Obama ads from the Cincinnati, Dayton, South Bend (because of Michigan) and Chicago (because of Wisconsin) media markets. These voters in Democratic voting areas have potential to increase turnout.
In addition, remnants of successful Get Out the Vote activities from 2008 will benefit Obama. Remember those voters who ringed the City-County Building, taking the time to register to vote? This time, look for them to go to voting places in their neighborhoods and vote for—Obama.
The combination of support for the auto industry and the impact of Romney policies on workers at AMPAD will be heard in campaign appearances and might even make their way to the presidential debates.
If so, Indiana will have done what we predicted—affected the presidential race and made Indiana an impact state for the 2012 election. If that happens, 2012 will mark the second time in a row that a Democratic candidate for president carries our state.
Maybe then I can convince our friends across the border that Ohio is not the only Midwestern state that matters.•
• Winston is president of Winston/Terrell Group, an Indianapolis-based government affairs, public outreach and community relations firm. He was chairman of the Indiana Democratic Party from 1999-2001. Send comments on this column to [email protected].
Please enable JavaScript to view this content.