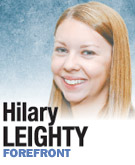 Rep. Joe Donnelly needs a lesson in economics. Donnelly's campaign advertisements say he's "about jobs and balanced budgets," but throughout Donnelly's time in Congress, the public debt has increased $7.3 billion and every American citizen's individual share of the debt is now $51,823. He voted to increase the debt ceiling five times. In Donnelly's last two terms alone, net private-sector jobs have decreased a half million.
Donnelly paints himself as a "conservative Democrat," and who can blame him? He's running in a state where Republicans hold all statewide offices and a commanding majority in the state Senate and House.
In Donnelly's case, the term "conservative Democrat" means he is pro-gun and anti-abortion. I know I'm not the first one to say it, but social issues are less important this time around. Donnelly needs to demonstrate basic economic understanding and fiscal responsibility. Unfortunately, his congressional voting record doesn't provide relief for Hoosier voters seeking an economically conservative candidate.
Donnelly has voted with his party 88 percent of his time in Congress and with President Obama 67 percent of the time. Donnelly's more notable votes include the Affordable Care Act, which allocated $716 billion from Medicare to Obamacare, and which Hoosier voters overwhelmingly opposed. Donnelly also voted for the $787 billion stimulus package.
More than 14 percent of college graduates still face unemployment, with a 66-percent increase in student loan debt since Donnelly took office. As a college student, I'm not feeling economically stimulated.
Donnelly's campaign website says the first step to create jobs is to, "Close tax loopholes that encourage some giant Wall Street corporations to ship American jobs overseas. It is unacceptable that our current tax code currently offers incentives for sending Hoosier jobs to other countries."
We can all agree that American jobs should stay in America and that the tax code is one of the primary reasons jobs are leaving. However, Donnelly has drawn a flawed conclusion. The U.S. has one of the highest corporate tax rates in the industrialized world. We are also one of the few countries that taxes capital gains.
Job-creating companies should not be penalized with an overbearing and confusing tax code. These rates should be lowered, or better yet, eliminated. Lowering or eliminating the rates will ensure business expansion within our borders, providing an incentive for companies to remain here and expand here. The opportunities and jobs provided would be limitless. That's change I can believe in.
Donnelly's votes for the ACA and his position on the tax code persuaded Cook Medical to end its plans to build five manufacturing plants in the Midwest that would have employed 1,500 people. Because of the 3.8-percent medical-device tax in the ACA, Cook is now looking to expand overseas, which will further depress an already poor economic situation.
Donnelly's votes in favor of the stimulus, the ACA and increasing the debt ceiling demonstrate his absolute lack of crucial economic understanding. A vote for Donnelly in November will result in more of the same growth-stifling, job-killing and economically ignorant policies implemented by today's Washington insiders.
Donnelly needs a serious lesson in economics before he spends any more time in Washington, or at least new economic advisers. After all, who can survive four more years of a discouraged business, high taxes and soaring unemployment?•
• Leighty, an Indiana University sophomore double-majoring in marketing and management, is president of the IU College Republicans. Send comments on this column to ibjedit@ibj.com.
Please enable JavaScript to view this content.