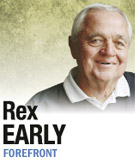 Water is a valuable commodity. Wars have been fought over water rights. This summer's drought certainly made people here in Indiana become water conscious. Geist and Morse reservoirs were both being tested before we finally got relief.
In the 1970s, Tom Moses (no relation to the Biblical Moses) was president of Indianapolis Water Co. Moses was a visionary and he recognized that Indianapolis and central Indiana needed an abundant supply of water; just digging wells was not going to get it.
Moses' dream was a reservoir three to four times larger than Geist. Moses wanted a reservoir that would cover most of the area that is now Fishers. His plan would give Indianapolis and the surrounding areas an abundant water supply for years to come. He recognized that abundant water would also have a positive economic impact. Additionally, it would have created hundreds of desirable waterfront home sites.
The plans were drawn and everything looked like a go except for one thing. The U.S. Army Corps of Engineers would not approve the large version of the reservoir without Indiana's senior U.S. senator, Birch Bayh (Evan Bayh's father) signing off on the plan. One of Sen. Bayh's concerns was using eminent domain to secure the needed real estate. Bayh was set in concrete on this issue.
In that era in Indianapolis, we had what The Indianapolis Star referred to as "The Movers and Shakers." These were the Indianapolis leaders who made things happen in Indianapolis. Not only was Moses considered one of the most influential of the movers and shakers, but his best friend and golfing pal was Eugene Pulliam, who owned the Indianapolis Star.
Needless to say, Pulliam was the No. 1 opinion maker in central Indiana and he, too, favored the Moses plan. With Pulliam and Moses pushing for the larger reservoir, you might think Bayh would have second thoughts. He didn't.
Bayh was popular in Indiana. He had served in the Legislature and been speaker of the House. He was a farm boy from around Terre Haute who had risen to leadership in the U.S. Senate. In 1974, Dick Lugar ran against Bayh for the Senate seat. Lugar lost.
Another close friend of Bayh's was Sen. Ted Kennedy. In 1964, Bayh made headlines when he and Kennedy were in a small plane that crashed. The pilot and another passenger were killed. Bayh saved Kennedy's life by pulling him out of the burning wreckage. Almost everybody thought he did the right thing!
In 1976, Bayh ran for president. He was the early favorite of the 12 Democrats running for the nomination. He lost in Iowa and New Hampshire to Jimmy Carter and then ended his campaign. (How could anyone lose to Jimmy Carter?)
The 1980 election was approaching and Bayh was gearing up to run for his Senate seat again. It looked like another walk-over for Bayh, but Moses and Pulliam had long memories. They supported a candidate to run against Bayh. (Paybacks are hell.) The candidate was Pulliam's grandson, congressman Dan Quayle.
You know the rest of the story. In 1980, Ronald Reagan won in a landslide. Quayle ran a great campaign and won the Senate seat with the support of Moses and, of course, Pulliam.
Looking back, if Bayh had approved the large version of the reservoir, we all could have watered our lawns in July and August, Bayh might have won again, Quayle might not have been vice president, and the people in Fishers could all have boats.
If ifs and buts were candy and nuts, what a merry Christmas we would have!•
• Early served in the Indiana House and as a Republican state chairman, as well as on the Republican National Committee. Send comments on this column to ibjedit@ibj.com.
Please enable JavaScript to view this content.