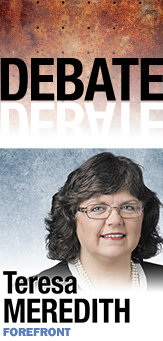 QUESTION: What does it mean for students to be college-and-career ready?
ANSWER: I stopped into a local discount store on a stormy night this month and purchased items totaling less than $40. Lightning had struck the store and registers were not working. The manager gave clerks calculators and instructed them on how to track purchases.
When I checked out, my clerk didn't know how to figure Indiana's 7-percent sales tax. So, I helped her with the calculator, gave her a quick tutorial on taxable items and how to figure tax, and presented two $20 bills. She used the calculator to figure out change.
As I drove home, I questioned how someone could lack such basic life skills—and then it hit me. The state has failed to place priority on real life skills and has instead forced schools to create quality test takers.
As a kindergarten teacher, I look for mastery of skills sets. Of course, there is not much room for error in learning letters and sounds and how they fit together to make words. But I also look for life skills—skills like determination, hard work and the strength to keep trying even if you don't get it right the first time. Those are real skills.
As students maneuver through school, mastering additional skills sets continues to be important. So college- and career-ready should mean mastery of basic academic skills and basic life skills.
I am not advocating that every student take calculus or four years of a foreign language. We all know those courses are not for every student—especially the unmotivated high school student who sees his future only as far away as the bell at the end of the afternoon. But it seems imperative that students be able to combine basic academic and life skills to achieve career or college goals.
However, many studies show that today's students need some kind of additional degree beyond high school in order to earn a comfortable living wage. And I am not discounting the need for furthering one's skill set. But neither am I convinced that everyone needs to graduate from college.
How many people do you encounter every day who hold no college degree? We will always need construction workers, bricklayers, mechanics, plumbers, electricians, painters, hairstylists, medical assistants, child care workers and bank tellers, and the list goes on and on. We know that most of those jobs require a basic skill set that includes being able to work well with people, communicate clearly, follow directions, listen and to follow through, and in some cases additional certification or apprenticeships.
As an educator, I also know that the percentage of students going to college is increasing. A recent Metlife Survey about preparing students for college and careers shows that 75 percent of America's high school students think they will go to college, up from only 57 percent in 1988. Clearly, we need to make sure our students meet the readiness levels for postsecondary college work.
Schools can meet a common core of academic expectations to allow for both college-bound and career-bound students to achieve their goals by including some flexibility in planning high school programs.
"College-and-career ready" sounds nice. It fits today's push for everyone to head off to college and graduate with some degree, hopefully one that will land the graduate a job that pays a decent wage.
A better phrase might be "life-ready." After all, whatever reality plays out after graduation might be what students should be ready to tackle.•
• Meredith is vice president of the Indiana State Teachers Association and has taught for more than 18 years in Indiana schools. Send comments on this column to ibjedit@ibj.com.
Please enable JavaScript to view this content.