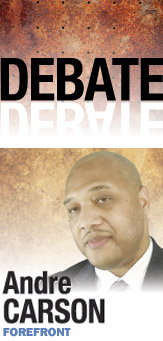 QUESTION: What is the biggest issue for District 7 residents, and how should it be addressed?
ANSWER: As a nation, we remain in the middle of a long and arduous economic recovery, so it should be no surprise that the most important issue facing the 7th District is how we continue to grow our economy. We must continue moving forward. I am committed to doing everything I can to put Hoosiers back to work.
When I took office in 2008, we were losing nearly 750,000 jobs per month, the global financial system was in turmoil, and Hoosiers were watching in panic as their life savings disappeared. We were in economic free fall, and it took bold leadership and decisive action to turn that around.
We have now seen 30 consecutive months of private-sector job growth. The American auto industry, which was at risk of losing 1 million jobs, is now competitive and hiring. And our small businesses have benefited from 18 tax cuts and $93 billion in new investment.
Thanks to Democrats in Congress, more than 130 million Americans received recovery rebates, and legislation was passed to jump-start our economy, create and save 3.5 million jobs, and give the majority of American working families and individuals a tax cut.
Regardless of the partisan rhetoric we are seeing this election year, there is no question we are economically stronger than we were before. We are far from where we need to be, but we are on our way back.
As I talk to Hoosier families who are still looking for work—who are struggling to provide for their families—the challenge is clear. Congress, including those newly elected this November, must cast aside negligent partisanship and do everything in our power to accelerate this economic recovery.
We must close tax loopholes that encourage companies to ship their jobs overseas, provide tax credits that allow our small businesses to grow and thrive, and strengthen worker training programs that prepare our work force for the jobs of today and tomorrow. Back at home, each member of Congress can go even further, holding job fairs and training sessions in their districts, like I have done here in Indianapolis.
If we are truly going to make a difference for our economy and its future, it will require us to come together and get the work done.
We should start by averting the rapidly approaching fiscal cliff. Over the last two years, members from both parties have staked out their positions on tax cuts for the wealthy; continuation of unemployment support; and spending cuts for critical priorities like Pell Grants, food for the hungry, health care for seniors, and national defense. Now, more than ever before, is time to set aside politics and find common ground.
Americans are tired of the bickering, they are tired of the wedge issues, and they are tired of a Congress that wastes time while Americans struggle.
In this election, we face a clear and critical choice. Will we continue on the road to recovery? Will we come together, regardless of who is in power, to help Americans and strengthen our economy? Or will we turn back to policies that led us to the most significant economic downturn since the Great Depression? Will we choose to stay on our ideological platforms and stall progress for Americans? For me, that choice is clear.
Americans demand a Congress and congressmen and women who will fight for what's best for the nation, not their national political parties. I've provided that level of principled leadership, and I am ready to keep fighting for the people of Indiana's 7th Congressional District.•
• Carson, a Democrat representing U.S. House District 7 in Indianapolis, is running for re-election. Send comments on this column to ibjedit@ibj.com.
Please enable JavaScript to view this content.