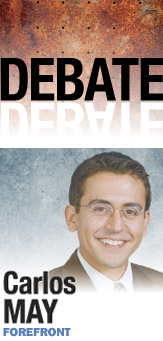 QUESTION: What is the biggest issue for District 7 residents, and how should it be addressed?
ANSWER: The most critical issue for District 7 residents is the economy. We need to redouble our efforts to create an environment for greater job growth. Mayor Ballard has done an excellent job of attracting investment domestically and by building partnerships throughout the world in this global economy. However, he needs a stronger partner in Washington.
If elected to Congress, I will support policies that will grow the economy and create jobs through small-business regulatory reform, reforming the tax code, strengthening our manufacturing sector, and supporting an energy policy that supports diversification.
I will support proposals to require all federal agencies to analyze the impact a new regulation would have on small businesses. According to the National Association of Manufacturers, a 2010 study conducted for the Small Business Administration estimated that small manufacturers pay an average of $28,300 in regulatory costs per employee, which is 125 percent higher than the per-employee cost for large manufacturers. Dollars spent on regulatory compliance are dollars not spent on capital investment or hiring new employees.
Last year, the Regulatory Flexibility Improvements Act passed the House of Representatives with bipartisan support and would have helped relieve small businesses of unnecessary regulatory burden. Congressman Carson voted against this small-business-friendly bill.
Our tax code is convoluted and benefits only those who can afford tax lawyers to interpret it. There was bipartisan support in 1986 when President Reagan led the charge to reform the tax code, and it is time for another reform effort. The tax code needs to be fair, simple and transparent. I would consider reforms that create a tax on consumption and reduce the tax burden on wealth creation and production.
To strengthen our manufacturing sector, I will support making permanent the research and development tax credit because it provides incentives for businesses of all sizes to expand and invest in capital, which creates jobs and grows the economy. According to the National Association of Manufacturers, in 2009, the United States ranked 24th out of 38 industrialized countries in the strength of our R&D tax incentives. In the mid 1980s, America's R&D tax credit was the best in the world. The U.S. needs to be No. 1 again.
Finally, I support a diverse and environmentally responsible energy policy—from off-shore drilling to wind energy. Energy choice creates competition and will reduce cost to consumers, including gas prices. Therefore, I will support legislation authorizing the construction of the TransCanada Keystone Pipeline.
Additionally, I will support efforts to reverse President Obama's offshore drilling moratorium and allow energy production in areas containing the most oil and natural gas resources, such as in the Gulf of Mexico and off the coast of Virginia. I will also support wind energy, a growing manufacturing sector and source for power in Indiana.
Supporting a diverse and environmentally responsible energy policy will create over 1.2 million U.S. jobs and generate over $800 million in federal tax revenue over 10 years, according to the Congressional Budget Office. Unfortunately, Carson voted against the Putting the Gulf of Mexico Back to Work Act and reversing President Obama's Offshore Moratorium Act last year. I will support legislation that offers energy choice and creates jobs.
If I am elected to Congress, the residents of the 7th District will know that my primary focus is jobs and the economy.•
• May is a Republican running to represent the 7th Congressional District. Send comments to ibjedit@ibj.com.
Please enable JavaScript to view this content.