While WellPoint Inc. and its predecessors have a history of grooming new CEOs in-house, the next leader of the health insurance giant is likely to be an outsider, according to interviews with more than a half dozen former directors and officers of the company.

DeVeydt
That's partly because Angela Braly's five-year tenure leading the Indianapolis-based company was marked by heavy losses in the executive ranks, leaving only two internal candidates to replace her: Chief Financial Officer Wayne DeVeydt and Executive Vice President Ken Goulet.

While WellPoint did extensive succession planning, neither executive is fully ready to step in because the board did not expect to be looking for a successor to Braly, 51, so soon, according to two high-level WellPoint officials who recently left the company.

Another factor: Because Braly was forced out by investor anger, WellPoint's board is likely to seek a new CEO who already has experience making money for Wall Street, say alumni of WellPoint's board and management team, as well as investors and analysts.

Goulet
Of the outside contenders for Braly's job, the name mentioned most often among current and former employees of WellPoint is David Snow, 57, the former CEO of Medco Health Solutions Inc. He could not be reached for comment.

"I would like to think we would be open-minded to give someone with the board's backing a chance," said Sheryl Skolnick, a health care analyst at CRT Capital Group LLC in Connecticut. "Part of the problem here is, there is not a lot of confidence in the board's ability to truly understand what investors want."

That lack of confidence has been growing for the past year. Questions about Braly's future grew steadily more intense before erupting July 25, when the company missed its earnings forecast for the second time in two quarters.

WellPoint's board members, who by all accounts liked Braly and the job she was doing, stood by her publicly for a month while also canvassing the opinions of large shareholders. Ultimately, the board ousted Braly to placate investors.

But the heat isn't off the board yet. Several investors were upset that it took an entire month for the board to name an outside search firm, Spencer Stuart & Associates, to help it find a new chief.

And some are impatient that the company expects its CEO search to take three to six months—while huge changes to the health insurance industry created by the 2010 federal health reform law are due to take effect in 2014.

Inside vs. outside

WellPoint spokeswoman Kristin Binns declined to comment on the claims by former WellPoint brass that the company is more likely to name an outsider as CEO.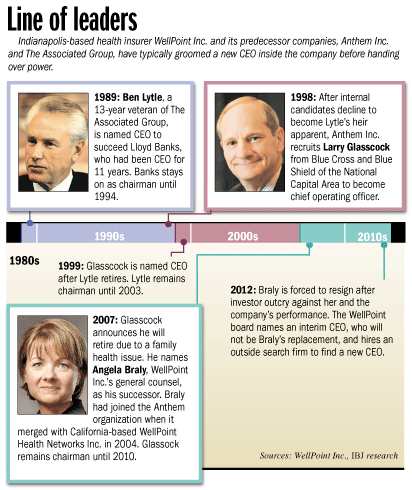 "Our board and our company have detailed and well-thought-out succession plans," Binns wrote in an e-mail in response to claims that WellPoint has no ready-to-go internal candidates.

In fact, she wrote, the company used its emergency succession plan when it named John Cannon, WellPoint's general counsel, to serve as interim CEO on Aug. 28. Cannon, a former executive at Cigna Corp., has said he does not want the CEO job permanently.

WellPoint does extensive succession planning throughout the top three or four ranks of its managers, according to former WellPoint brass. The company asks lower managers what jobs they aspire to and also performs aptitude assessments to see which employees have the ability to move into higher jobs.

The board annually reviews reports on its managers, assessing if they will be ready to move into a higher position in one year, in one to three years, or in three to five years.

But it has been hard for any executive to be groomed to be CEO because so many have been coming and going.

Consider: Out of the 22 corporate executives at the senior vice president level or higher appointed during Braly's tenure, half have left or been fired.

In addition, of the five top executives at WellPoint when Braly became CEO, only one— DeVeydt —remained a year later.

Several WellPoint executives, such as company veteran Dijuana Lewis, departed or were fired after directly sparring with Braly. Other former WellPoint executives say Braly did not take even constructive criticism well and that, after a few firings, most executives opted to keep contrary opinions to themselves.

"WellPoint seems to be a company that eats its own young," Skolnick said.

Name game

Snow, the ex-Medco CEO, spent four years as chief operating officer of New York-based WellChoice Inc., which operated the Empire Blue Cross and Blue Shield health plan in New York City.

WellPoint acquired WellChoice in 2005 for $6.5 billion. But by then, Snow had jumped over to become CEO of New Jersey-based Medco Health Solutions Inc. He led that company until its merger this year with St. Louis-based Express Scripts Inc.

Also mentioned frequently is Ron Williams, who was a division president at one of WellPoint's predecessor companies, California-based WellPoint Health Networks Inc., until 2001 when he jumped to Aetna Inc., a health insurance giant based in Hartford, Conn., and eventually became its CEO.

Another name mentioned is Gail Boudreaux, head of the commercial insurance unit at Minnesota-based UnitedHealth Group. She has turned around the performance of that crucial unit since taking the job in 2008, after a stint as executive vice president of external operations for Illinois-based Health Care Services/ Corp., which operates Blue Cross and Blue Shield plans in several states.

It's the combination of Blue Cross and commercial experience that makes executives like Snow, Williams and Boudreaux so attractive to WellPoint, said Dr. Woody Myers, who was chief medical officer of WellPoint Health Networks from 2000 until its merger with Indianapolis-based Anthem created WellPoint Inc. in late 2004.

"WellPoint is a particularly funny animal in the insurance universe," Myers said, noting that the company has dominate market share in the 14 states where it operates Blue Cross plans, but very little presence outside those areas. "It's very hard to be Blue. Blue Cross is a different animal than is a commercial payer."

Yet the 2010 health reform law is forcing WellPoint to extend its operations nationally—through health insurance exchanges and through expanded government health plans in every state—while at the same time making it harder to make money on its Blues plans.

Myers, who is friends with Williams, said he would be perfect for the job—if WellPoint's board can persuade him to "get back in the frying pan." Williams could not be reached for comment.

"Ron is an exceptionally talented executive in that role," Myers said, adding that Williams has "tremendous experience as to what to do when you're Blue and what to do when you're not Blue."

Because many WellPoint employees and alumni doubt that either Williams or Boudreaux would take the helm of WellPoint, speculation has focused more on Snow.

Also, some have speculated Jim Carlson, the CEO of Virgina-based Amerigroup Corp., could replace Braly after it completes its acquisition of Amerigroup late this year.

That speculation does not mean that two internal candidates, DeVeydt and Goulet, won't get a serious look from WellPoint's board.

Both are described by former WellPoint executives as "super talented," and both are known to Wall Street analysts and investors because they speak regularly during WellPoint's quarterly conference calls and presentations at investor conferences.

DeVeydt, 42, became chief financial officer on May 31, 2007—the day before Braly become CEO—after serving as the company's chief accounting officer and, before that, working at PricewaterhouseCoopers LLC. Some WellPoint insiders have said DeVeydt did a better job communicating WellPoint's message than Braly did.

Braly brought Goulet to WellPoint in October 2007 as part of her first big shakeup of the company's management. Goulet, 53, had a 23-year career at Cigna Corp. He has taken on increasing responsibilities during his time at WellPoint, and now oversees WellPoint's employer, Medicaid, individual and specialty business units—which represent roughly 90 percent of its health plans' membership.

But investors have sent a clear message that they do not want more of the same, and naming either DeVeydt or Goulet as CEO would send exactly that signal, said Ana Gupte, a health care analyst at Sanford C. Bernstein & Co.

"It's hard for them to disassociate entirely from the CEO reign of Angela, because they were very integral to her management team," Gupte said. "A lot of Wall Street thinks that they need an outside perspective."•