Thousands of volunteers will lace up their work boots Oct. 11 and fan out along the creeks, streams and rivers that course through the heart of Indianapolis like arteries.

They'll gut invasive shrubs along Fall Creek. They'll create a walking trail near White River. They'll scramble down the banks of Pogue's and Pleasant Run to pick up litter. They'll paint murals in neighborhoods near the city's waterways. To cap it off, they'll affix "No dumping" tags to 8,000 storm-sewer drains across the city that can route refuse to streams and rivers.
IBJ.COM EXTRA
To see renderings of the proposed changes to the waterways,
click here.
Viewed simply as a one-day happening, the event is the latest iteration of Eli Lilly and Co.'s annual "Global Day of Service," which harnesses the power of the pharmaceutical giant's employees for civic deeds. But it's more than that.

The work by these sturdy-heeled volunteers will represent a giant step toward the long-term goal of a massive, grass-roots movement involving more than 100 local businesses, neighborhood groups, not-for-profits, schools, city and state departments, and community development organizations.

The goal: Strengthen the city and spark renewed economic development by improving its neglected waterways and the neighborhoods that border them.

"We have six waterways in the city that we pretty much have turned our backs to," said Sherrie Bossung, chairwoman of the steering committee for the overall initiative, named "Reconnecting to Our Waterways."

"We've all decided that we'll do the things we already do, but focus those efforts in these six neighborhoods, to invest that in these core areas," Bossung said.

The means: Collect all the existing plans for reviving and beautifying those neighborhoods, and improving those streams, creeks and rivers. (That's a chore in itself; there are more than 100 plans out there.) Bring together all the people who have a stake in them. Identify the areas of greatest concern and potential. Then make master plans encompassing all the waterways, so everyone's on the same page and heading in the same direction.

The Reconnecting to Our Waterways movement has been in the meeting and planning stages for more than a year. The Lilly Day of Service helps kick off the action-centered, "Let's get it done" phase.

"The Day of Service is important to show people we are serious. It's a demonstration," said Bossung, whose day job is director of community outreach and employee engagement for Lilly, which includes running the annual event.

The 8,000 volunteers will help kick-start efforts to improve several of the six waterways targeted by ROW for revivification: White River, Central Canal, Fall Creek, Eagle Creek, Pogue's Run and Pleasant Run.

ROW participants already have envisioned possible redevelopment plans and projects for specific points along each of those waterways and in nearby neighborhoods. By the end of the year, they plan to hone in on one project per waterway, seek potential funding sources, and bring together people who can bring the projects to light.

"What we want to do is begin having sessions where developers, business leaders and city leaders come together and decide where they want to engage," Bossung said. "It's about showing the community where the opportunities are and having them say, 'Wow, if the community wants this, I can help bring this.'"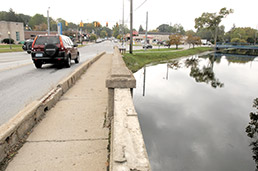 This site near Illinois Street and Westfield Boulevard is one of several targeted for cleanup that organizers hope would spark a wave of revitalization (IBJ Photo/ Perry Reichanadter)
Quality of life

ROW grew out of a local quality-of-life event held in 2010 called the Livability Challenge, hosted by the Central Indiana Community Foundation and the national urban advocacy organization CEOs for Cities.

Participants produced a mission statement of sorts—"to create access to art, nature and beauty every day for everyone." A consensus built that the best way to meet those objectives was to focus on the city's waterways.

"It's truly a holistic approach to revitalizing community and environment," said David Forsell, president of Keep Indianapolis Beautiful and a member of the ROW steering committee.

In March, ROW hosted a brainstorming session involving more than 150 neighborhood activists, business executives, ecology experts, design gurus, and local and regional government leaders. Their task was to examine and synthesize existing plans to improve the targeted waterways, shorelines and their surrounding neighborhoods.

"There has been so much planning and so much time invested already, we thought as a group that it's time to make some of these plans actionable," Forsell said.

The group continued to collect public input and focus on neighborhoods where local groups already had drafted detailed improvement plans, eventually arriving at proposals for specific points along or near the waterways. The proposals run the gamut from simple and cheap improvements to projects that will require millions of dollars in investment and the cooperation of multiple stakeholders.

For example, ROW has decided to focus its attention on two points along Pleasant Run on the south side of the city—its intersections with Prospect and Raymond streets.



Some elements of the plan could be accomplished with volunteer labor, such as clearing invasive plants, creating community gardens and painting murals. Others would require a financial investment, such as installing lights, park benches and playground equipment. On the high end is a wish list for complex development such as a grocery and other retail businesses, and a science center for children to learn about water's role in ecology.

Aligning agendas

Pessimists may look at the ROW effort and write it off as another well-meaning initiative with big plans and little money in pocket to make them happen. But its organizers are counting on the critical mass and collective political power of the groups on board to accomplish its goals.

"We all bring expertise and resources to the table," Forsell said. "It's about a decision to align and have a common agenda. … Then we expect that there will be new and additional resources brought to bear."

Bossung uses the Day of Service as an example of how one commitment can beget more action. Part of the agenda for the Day of Service involves placing roughly 2,500 Lilly volunteers along Fall Creek between Senate Avenue and 39th Street to pick up litter, remove invasive plants, and paint a mural.

Upon hearing about the focus on the creek, officials at nearby Ivy Tech Community College decided to pull the trigger on plans for outdoor education classrooms along the creek, and herb gardens and an orchard for culinary students, Bossung said.

Locally based Dow AgroSciences offered safe chemicals for clearing undesirable plants. Architecture firm Schmidt Associates offered to draft a design plan for the area. Rolls-Royce Corp. chimed in with a proposition to create a piece of public art focusing on engineering with students from Fall Creek Academy.

Creating space that focuses on art and science is a key element of the ROW strategy, Bossung said.

"We know that the more curious and knowledgeable people are, the more people will take an interest and ownership for preserving and improving our waterways," she said.

The city of Indianapolis has committed to finishing portions of the cleanup that aren't completed by the end of the Day of Service.

With Lilly and Keep Indianapolis Beautiful, the city is considered one of the main pillars of the ROW initiative. Ashlee Kilpatrick, a project manager for the Office of Sustainability, has served on the steering committee since the beginning of the year, helping outline the city's priorities and determining where they can align with the group's.

"This way, we can start prioritizing the city's capital improvements or economic development initiatives," Kilpatrick said.

ROW presents a rare opportunity for the city to consult with neighborhood groups and other major stakeholders in waterway areas all at one time and all in one place.

"They're bringing all these groups to the table and helping us filter through those conversations," Kilpatrick said.

The massive volunteer effort Oct. 11 also will help the city accomplish some of its goals. Those include meeting a U.S. Environmental Protection Agency requirement to tag all the storm-sewer drains outside of Center Township with 4-inch plastic markers that read "No dumping." It's a process that would have taken the city three years to complete.

"Last year, we placed 2,800 markers on drains," Kilpatrick said. "They're going to place 8,000 in a day. That's amazing."

ROW officials envision the overall process as a five-year project. With the Day of Service, Phase One will be in full swing, focusing on particular sections of the six waterways and areas within a half mile.

Over time, the focus will radiate outward. In a sense, it's a continuation of the revivification of urban Indianapolis over the last 25 years that focused in great part on the Mile Square.

"I think that everybody recognizes that downtown is hugely important and that the work done has been crucial to Indianapolis," Forsell said. "We also need people who want to be living in Indianapolis. It's an important time to be reorienting to the quality of life where people live."•