Decorating a home in the same color throughout might normally be considered a design disaster. But for residents of the new memory support center at Hoosier Village Retirement Center, the scheme serves an important purpose beyond aesthetics.

The $32 million expansion of the West 96th Street senior living center includes Hickory Hall, a wing of 36 private rooms for patients of Alzheimer's and other types of memory loss. Those residents had been housed in the long-term-care area.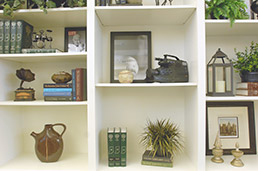 Bookcases in the lounge areas are surrounded by older items collected from local Goodwill stores meant to trigger patients' memories and stimulate conversation.(IBJ Photo/ Perry Reichanadter)
Opened in August, the hall features several design elements geared toward comfort and security—two critical needs for seniors struggling with memory loss.

Linda Morgan of Carmel-based Morgan Interiors Inc., who was recruited to help lead space design, said Hickory Hall is like no other memory-loss center in the country.

"I have visited memory facilities, and I have not been in one where the owners were willing to go to this extent for the residents," she said. "Every light fixture, piece of furniture, accessory—everything has a purpose."

To be sure, one of the more noticeable characteristics of the resident rooms is the uniformity of colors from one area to the next, in which walls and flooring are essentially the same shade of a soft blue, green or yellow.

Green has a calming effect, for instance, Morgan said, to make residents feel "encased in comfort."

Mixing light and dark colors is particularly threatening to Alzheimer's patients, said Sally Keenan, Hoosier Village's longtime executive director.

"It's a predetermined fact that residents of dementia, that if they come to an area that is much darker, they will stop and not go any farther," she said. "They don't want to step off the edge."

Residential rooms are furnished with sofas upholstered with a velour-like material instead of hard-finished textures.

And light is abundant throughout the hall. Skylights in rooms and large windows in gathering areas help dementia sufferers avoid the fear of shadows, Keenan said.

Seating in the four lounges is arranged so residents can face one another, instead of being lined up against a wall, to stimulate conversation.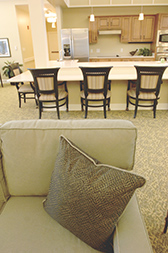 Dinnerware for the dining room was selected based on colors that make meals more attractive, because the appetites of Alzheimer's patients typically decline as the disease worsens.(IBJ Photo/ Perry Reichanadter)
Movie posters on the walls of one lounge and posters of celebrities, sports figures and automobiles hanging in another help trigger memories.

To that end, items such as older cameras, televisions and musical instruments that Morgan, the interior designer, collected from local Goodwill stores are situated near bookcases to further rouse conversation and memories.

"Sally wanted these people to have pleasant thoughts when they were sitting there, and I couldn't do that buying accessories from normal stores," she said.

A lot of time and thought even went into selecting dinnerware colors. Appetites of Alzheimer's patients typically decline as the disease worsens, so it's important that meals are presented in an appetizing manner, Keenan said.

Dishes are blue or gold, depending upon which side of the hall residents are in, to make the food more attractive, she said.

Hickory Hall is roughly 30 percent occupied through the first month of its opening. But with the high demand for memory-loss services, Keenan expects the rooms to fill quickly.

Hoosier Village is owned by Indianapolis-based not-for-profit BHI Senior Living. It also operates The Towne House in Fort Wayne and Four Seasons in Columbus.•