Fast-growing T2 Systems has been biding its time since scoring a $28 million equity infusion a year ago, but the maker of parking management software could soon be towing competitors out of its space.

Simmons
"We're in a much better position to look at acquisitions in the industry," said Mike Simmons, co-founder and CEO, who, in the time since the equity investment, has moved the company to nicer Keystone at the Crossing digs.

Nothing is imminent and an acquisition is by no means necessary, Simmons said. But he acknowledged that "we've had some discussions. … I think we'll see some growth outside of the typical organic growth."

This is a company growing its sales at a compound annual rate of roughly 20 percent to 25 percent. The privately held firm won't disclose 2011 sales—not even a hint. But T2's sales in 2010 were $20.5 million, up from $12.4 million in 2007, according to data provided to Inc. magazine for its list of fastest-growing companies.

T2 has nearly 120 employees. Roughly half of them are at the headquarters, while others work remotely—like one of its superstar software developers based in Toronto.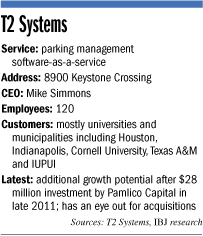 Although T2 Systems has kept a low profile over the last 18 years, it grabbed instant attention last September when Charlotte, N.C.–based Pamlico Capital announced the $28 million equity investment.

The private equity firm that invests in growing middle-market companies also said it was committed to investing "additional expansion capital."

Helping put T2 on the radar of investors in the obscure world of parking management software was the company's role in coming up with a platform of parking software that can be accessed from the Web.

Often, parking facilities use several types of software to issue parking permits, grant parking facility access, dispense tickets and make collections.

Where T2 made a name for itself was in unifying all operational and financial software on a single platform—and making it accessible via the Web, a la software-as-a-service.

"As of today, we're the only provider in the space to be able to provide all of our solutions in a cloud-based architecture," Simmons said.

Competitors are catching up, but it hasn't been easy. That's because hosting parking transaction data on the Internet—housed locally on the servers of nFrame—poses security and logistical challenges.

In a given week, T2 handles 207,000 financial transactions with a total value of $13 million, said Irena Goloschokin, executive vice president of strategy and products.

Doing so requires complying with the excruciating Payment Card Industry standards, and that's required T2 to build a high-tech monitoring center that resembles a National Security Agency operation.

Multiple video screens churn out statistics, including one with a national map and a gun-site image focused on a particular region of the country like something from Dr. Julius No's evil underground lair in "Dr. No".

The parking industry hasn't been known in the past for being on the forefront of technology.

"We are excited about our investment in T2 due to their great customer relationships, large addressable market opportunity, strong management team, and technology leadership," said Walker Simmons (no relation to Mike Simmons), a Pamlico partner.

Pamlico's portfolio also includes companies such as Philadelphia-based Sonitrol, the leading commercial security monitoring service—and Dallas-based MetroPCS, the nation's sixth-largest mobile telecommunication network.

Rapid evolution

T2 got its start in California. Mike Simmons, a Stilesville native with a mechanical engineering degree from Purdue University, worked for a while at IBM. Then he worked for a San Francisco-area company that was dabbling in parking software.

When that company decided to get out of the parking space, Simmons and friend Steve Howard bought the remnant and in 1994 started their own company.

The following year, Simmons moved it to Avon. The company pretty much doubled in size for five years, earning the upstart a rank on Inc.'s fastest-growing companies list.

Simmons' first customer was the University of Memphis, in Tennessee.

Today, T2 has more than 350 customers—including Texas A&M, Cornell University and Florida State University. It has about 70 percent of the Big Ten schools as clients.

The second-biggest customer group, generating about 30 percent of revenue, is municipalities. The first such customer was the city of Hermosa Beach, Calif. The largest municipal customer is the city of Houston.

T2 also provides parking violation processing for the city of Indianapolis.

In the early days, Simmons fueled expansion with retained earnings and a line of credit from a bank. The first institutional investment came in 2007, when Nashville, Tenn.-based Petra Capital Partners tossed in $3 million.

The investment helped T2 hire more people and, more important, to make the transition to software hosted on the Web rather than on customers' own IT systems.

Now, most of T2's competitors have moved from perpetual licensing agreements to the hosted, software-as-a-service model.

"Basically, in 2005, we said this is where the technology is going," Goloschokin said.

Early last year, Petra cashed out, steering T2 to an investment bank that eventually led to the Pamlico recapitalization.

With money now in pocket and dominance in the university parking market, T2 is facing challenges, however.

For one thing, many states are struggling with funding, which affects what publicly funded universities spend on such things as parking software.

"This year, candidly, has been a tough year for us," Simmons said. "It's caused us to step back a little bit … . We want to see if there's sustained growth" before adding a lot more jobs.

And, although the effect on T2 is not yet clear, many of its university and municipal clients have been privatizing their parking operations. Not the least of which is client Ohio State University, which tapped a private firm to handle major portions of its parking operations. So far, the private operator has stayed with T2's system in place at OSU.

Private operator potential

"We're seeing a few of these [privatizations] come up. It's still rather new," said Tim Maginn, chief operating officer of T2.

The upside of privatization is that private operators will be hungry to achieve efficiencies, giving T2 a possible introduction to private parking operators.

The municipal business has been growing, meanwhile, with Charlotte and Tampa, Fla., now among T2's clients.

To what extent the private parking management segment could grow is yet to be seen. T2 counts among its relatively smaller segment of commercial operators Denison Parking, the largest parking operator in Indianapolis.•