Nancy Shepard witnessed what happened to her friend when, at age 36, doctors diagnosed her with breast cancer.

"I went through the process with her and saw what exactly it did to the family and how things just changed in an instant," Shepard said.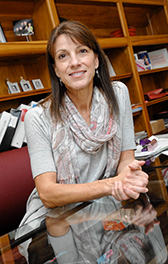 Nancy Shepard spends about 20 hours a week running the Indiana Women in Need Foundation in Broad Ripple for no pay. She is also a full-time registered nurse. (IBJ Photo/ Perry Reichanadter)
Despite the new health challenges, day-to-day obligations remained.

The house needed cleaning, the children needed feeding, but the physical ability was not always there. And it's hard to pay someone else to handle those tasks when a family faces medical bills for chemotherapy or radiation treatment.

What Shepard saw led her to organize a fundraiser.

Enough groups raised money to research breast cancer and hunt for a cure, people told her.

So she decided to focus on the aspect she saw little support for—the everyday chores and expenses that so many breast cancer patients struggle with.

That was 12 years ago.

Shepard, 53, has since distributed $875,000 in grants to breast cancer patients. Instead of a single fundraiser, she established the Indiana Women in Need Foundation in 2000.

Women in 91 of Indiana's 92 counties have received financial assistance. Shepard hopes the group hits $1 million in grants by the end of this year.

Recipients have ranged in age from 18 to 90. The most common demographic IWIN serves is a middle-age mother in the middle-income bracket.

"We are very focused on the journey of treatment and the fatigue it causes," Shepard said. "So what we see is, we are helping that middle-income person who doesn't qualify for any other services, these people who are becoming bankrupt through this journey."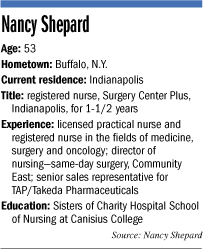 IWIN affiliates with service providers, such as cleaning agencies, and provides up to $500 to breast cancer patients to cover the costs of the services.

The list of services also includes personal errands, child care, pet care, yard work, transportation assistance, meal preparation, exercise classes, yoga classes and massage therapy.

"It's whatever helps them get through the treatment," Shepard said. "They might have three or four children at home, so they may want housekeeping or food preparation during their weeks of chemo because they're too tired to cook and the family's kind of suffering from it."

'Fight for your life'

Brookville resident Kirshell Lovins desperately needed the help in 2006, when the unemployed mother of two toddlers was diagnosed with breast cancer at age 31.

Family and friends rushed to support her after they learned of her illness. Still, resources were scarce in her rural town of about 2,600 residents.

Doctor bills squeezed her bank account as she traveled roughly 80 miles round trip every day to a Cincinnati treatment center.

"When I was first diagnosed, I told my husband, 'Take the kids and go,'" she said. "After the first chemo, I was ready to throw in the towel. You have to fight for your life, but it comes at a cost. I feel my kids were robbed at some point of their mother not being able to do what a well mommy can do."

Then a friend told her about IWIN.

She received $500, which was enough to pay for several weeks of the gas she needed to get to Cincinnati.

The grant wasn't enough to reverse her finances. But it gave her an emotional pickup when she really needed a boost.

Lovins responded with gratitude by organizing a fundraiser that mimics IWIN's biggest annual event, the Pink Pajama Party. Her program usually brings in $3,500 to $4,000 every October.

Shoestring operation

IWIN is a small organization trying to address a big issue. Doctors diagnose breast cancer in an estimated 4,000 Hoosiers every year, according to the Indiana State Department of Health.

The only two employees, Operations Director Sue Wynne and Program Director Laura Kelner, work part time running day-to-day business at IWIN, which earmarked $136,000 of its $187,000 budget in 2011 to grants.

Shepard is a full-time registered nurse at Surgery Center Plus in Indianapolis who spends another 20 hours or so a week running IWIN for no pay.

She relates more closely to the not-for-profit's 50 volunteers because she focuses on development and outreach while relying on Wynne and Kelner to handle operations and finances.

The organization's six board members also have adopted a hands-on volunteer role to keep the group going.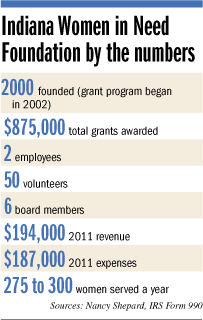 Board President Amy Kemp described it as a "working board."

In her case, she spends about 10 hours a week every November through February orchestrating the Pink Pajama Party, which brings in about $60,000 annually from ticket sales and sponsorships.

The event is an evening dedicated to all things pink: pink décor, pink attire, pink champagne. IWIN serves dinner to an average of 300 attendees. The evening also features such activities as dancing and spa treatments.

"Everyone on the board is on some committee," Kemp said. "It's a tight-knit group of gals. We have a couple of survivors on our board, so they see the need; they've felt the impact."

She praised Shepard for tackling often-chaotic full-time nursing work while also dedicating large blocks of her free time to IWIN without pay.

Almost every dollar of the group's budget comes from donations and grants, meaning she has to constantly interact with potential supporters to keep the funding flowing in.

At the same time, IWIN has to guard against over-marketing itself to potential grant recipients, since it only has so much money to give away.

"The money comes in, the money [immediately] goes out to these people," Shepard said. "That's just how many people are coming to us for assistance. That's why we don't spread the word too much, because we know the doors would open, and we would not be able to fit the need."

The ultimate solution, she said, isn't to raise ever-larger sums. It's for researchers to wipe out breast cancer.

"In a perfect world, we'd be out of business because a cure was found," Shepard said. "And I'll take that."•