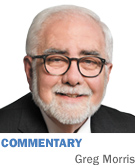 As promised, I've got more election politics this week. In my last column, I upset some of my more liberal friends by highlighting Edward Klein's book, "The Amateur." So, I thought it only fair to risk irritating some of my more conservative associates this week.
Against the backdrop of the first presidential debate Oct. 3, I continue to believe the choice for president this year is the most critical in my lifetime. In the first debate, the differences in the two candidates regarding the role of the government and how it governs could not have been displayed more clearly. Our choice this November potentially affects our country's future for decades to come—one direction or another.
We'll know which direction that is in a few short weeks. Unfortunately, when it comes to accomplishing anything of substance in a gridlocked Congress, I believe either man will face long odds for success. And that is a scary proposition because we need leaders who will work together to fix this terrible mess we've created for ourselves. Can you see the fiscal cliff ahead? It's just around the next turn and there doesn't seem to be a guardrail to keep us from plunging off the edge.
One prime example of a candidate who promises more gridlock in Washington can be found right here in Indiana. Of course, you know I'm speaking of Republican candidate for U.S. Senate, Richard Mourdock. You've heard Mourdock promise "no compromise" on seemingly any issue. He's running against the Democratic candidate, Rep. Joe Donnelly, who represents Indiana's 2nd District. The winner will take outgoing Sen. Richard Lugar's seat.
Donnelly is a member of the Blue Dog Coalition, a group of moderate Democrats in Congress. He's broken with the Democratic leadership on some budgetary issues and other matters. In the recent past, he was ranked as one of the 10 most independent Democrats by a nonpartisan Congressional Quarterly report.
Hey, wait a minute. It seems like congressman Donnelly might reach across the aisle on occasion and try to work with the other party. This is the same sin that caused Sen. Lugar to lose support from hard-core Republicans. Remember, extremism one way or the other is what plays well today. Or, are there still exceptions?
Mourdock's extreme views aren't playing as well as planned. The polls are showing a very tight race, and it's too close to call with only weeks left before the election. The "my way or the highway" approach appeals to the base—conservatives and the Tea Party faithful, but that messaging hasn't resonated with a lot of Indiana's moderates on both sides of the aisle.
I got a new mailing from Mourdock this week. There was a strong attempt to paint Donnelly as a far-left-wing liberal, rather than the moderate "he claims to be." This sentence from the mailing probably sums up Mourdock's current strategy best—"I think Indiana deserves better than another out-of-touch, bought-and-paid-for liberal politician to rubber stamp the Obama/Reid/Pelosi agenda." It's more pandering to the base, but in a different manner than the no-compromise message.
I had lunch with a friend of mine the other day. He told me about having lunch recently with a group of five Republicans. One was an elected official and one was a former elected official. To make a long story short, not one person at the table said they could vote for Mourdock. Now I don't know if that meant they were all going to vote for Donnelly, but they were at least going to withhold their vote from Mourdock.
I believe a lot of Republicans are facing that dilemma right now. If you think President Obama is going to be re-elected, do you vote for Mourdock in an attempt to block Obama at every turn? You might favor a more moderate approach from Donnelly, but you risk sending another Democrat to vote with Obama on issues you adamantly oppose. What to do? A lot of Republicans are weighing that decision right now. And polls are showing many folks are breaking for Donnelly.
I think most people believe Lugar would have been re-elected with ease in the general election had he won the primary. But, wouldn't it be poetic justice if the Republican Party lost Lugar's seat to a Democrat because they over-reached and went for the extreme candidate?•
__________
Morris is publisher of IBJ. His column appears every other week. To comment on this column, send e-mail to gmorris@ibj.com.
Please enable JavaScript to view this content.