Even if Agio wasn't your favorite Indy Italian restaurant, you can't deny the void that was left when it closed on Mass Ave. With its open-air frontage and prime location next to Theatre on the Square, its absence blighted the block. And when permits began appearing on the building, you could almost hear the rejoicing, sight unseen (and food untasted).
Well, the new tenant has arrived, and Ralston's DraftHouse (635 Massachusetts Ave., 493-1143) already has given its block a face-lift. While there are still a few issues to work out, early visits indicate that the menu is creative, the execution smart, and the prospects strong.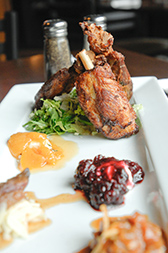 The pork shanks and the flight of sauces that make up The Flying Pig are fine, just difficult to combine. (IBJ Photo/ Perry Reichanadter)
On my first visit, I dined alone at the bar where attentive, friendly, but not pushy service made my Kuzola's Spicy Spinner ($9) all the more pleasurable. With pepper-encrusted shaved steak, enough habanero relish to justify the name without overpowering, and a bit of macadamia nut and coconut to remind you that this isn't your neighborhood sandwich shop, the creation proved a winner. The wide range of side options helped, too—although I spent far too much time weighing my choices. Ultimately, the Lemon Champagne Cucumber Slaw won out over Fried Rosemary Potatoes, Sweet Potato Fries, Greek Yogurt and four other options. Viva la variety.
When it comes to beverages, Ralston's provides even more options but also more assistance. Each sandwich on the menu has a suggested beer pairing. With an afternoon of work ahead, I skipped the adult beverages, but appreciated the recommendations (and the subtle up-sell).
For a return visit with a colleague, we dug into the unexpected appetizers. El Guapo ($5) featured a tasty trio of chorizo, habanera relish, onions and lime wrapped in soft corn tortillas. The Flying Pig ($10.50) showed care in the preparation of both the pork shanks and the flight of sauces, but the two weren't easy to combine. Unfortunately, despite my multiple efforts to slow things down, our entrees were brought to the table well before our appetizers were gone.
After hastily finishing off the appetizers, we dug into the Liege Waffle ($8.50). A glorified chicken and waffle dish accented with Greek yogurt, fig, date and agave reduction, it proved more successful with the well-prepared chicken than with its wan breakfast-staple support. The Drowning Trout ($9.50) may sound like an over-sauced dish, but it was actually a well-balanced, pan-seared trout with raspberry reduction, toasted pecans and goat cheese. There's a build-your-own-sandwich option, too, but with a charge of $1.50 each for such options as greens and tomatoes, the price can get out of control in a hurry.
No room for desserts this time, but Mango Mousse Cake and Mocha Panna Cotta are likely to lure me back before or after a show next door. If I can get in. A drive by on a Saturday proved the patio seating is already popular. Which is as it should be.•
__________
Second in a month-long series of possessive restaurant reviews.
Please enable JavaScript to view this content.