Loren Matthes doesn't physically work in Carmel, but most of her time is spent these days on a monumental task undertaken by the suburb north of Indianapolis.

As a public finance adviser for the Indianapolis-based accounting firm H.J. Umbaugh & Associates, she's been assisting the past year with Carmel's controversial proposal to restructure $183 million in debt related to financing the city's Center for the Performing Arts.

The three-theater venue, which includes the flagship Palladium, is the centerpiece of Carmel's new City Center district.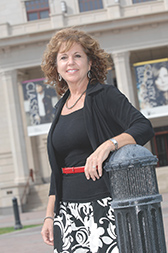 Loren Matthes, H.J. Umbaugh & Associates, has spent much of her time lately advising the city of Carmel as it attempts to restructure its $183 million in debt. (IBJ Photo/ Perry Reichanadter)
City officials want to reach a decision on the refinancing by October to take advantage of low interest rates and avoid pushing the issue too close to the November elections.

In the meantime, though, Matthes, 53, continues to plug away.

"It never seems to end," she said with a chuckle. "In theory, that should be the case [in October]."

Part of Matthes' role in the project is to provide Carmel's financial information to rating agency Standard & Poor's as the city works to maintain its relatively high AA+ rating. The information will help determine whether the rating will avoid a downgrade; the better the rating, the cheaper Carmel can borrow money.

Mayor Jim Brainard said the refinancing may be able to help the city cut the interest rate it's paying on its debt on average from roughly 6 percent to 3 percent, with Matthes' assistance.

The Center for the Performing Arts, thus the refinancing, is centered in one of Carmel's tax-increment financing districts.

TIF districts have "allowed us to keep our tax rates very low—one of the lowest in the state—and a lot of that is due to her good work," Brainard said. "She knows the bond market. She's a very capable and competent adviser."

The redevelopment commission is looking to bundle several of its high-interest and variable-rate debt obligations into two long-term, fixed-rate bond issues, which would have the city's backing.

The refinancing proposal would free up $8.8 million for future projects and keep the commission from operating in the red. The commission controls revenue from Carmel's tax-increment-financing districts for economic development.

Since providing a $5.5 million subsidy to the performing arts center last fall for operations, the Carmel Redevelopment Commission is in danger of running out of TIF revenue to cover its payments.

Matthes has more than 25 years of experience in the TIF arena and is quite an expert on the subject, boasting the impressive distinction of being involved in the first TIF project in Indiana.

The Roselle, Ill., native graduated from the University of Notre Dame in 1983 with a degree in political science, hoping to pursue her Third World development dreams. But an internship with the city of South Bend morphed into a full-time job in which she became involved in efforts to redevelop its downtown.

That led Matthes in 1985 to help complete the first tax-increment financing deal ever done within the state.

At the time, TIF districts were relatively new to the Midwest but now have grown to number roughly 300 throughout the state. Larger cities typically have more than one TIF district. Indianapolis, for instance, has 41.

TIF districts capture growth in assessed value, thus increased property tax revenue, to cover the cost of new infrastructure or other government spending.

"The theory is, you're trying to facilitate this private investment to happen," Matthes said. "Typically, cities don't have the money for those projects."

TIFs aren't always popular with a public skeptical of the benefits of providing public dollars to support private projects. One of Matthes' greatest strengths is responding to "politically motivated" financial questions in a calm and thoughtful manner, though her feisty "Irish-Italian" temper has been known to raise the ire of certain developers and bankers, she said.

Matthes left the city of South Bend for St. Paul, Minn.-based Springsted Inc., a public-sector adviser that had opened an office in Indianapolis. The office later closed, but not before she jumped to Umbaugh in 1990.

Founded in 1950, the firm is widely known for providing financial guidance to local government in the Midwest.

Besides Carmel, Matthes' larger clients include the town of Plainfield and Delaware County, where she recently helped the county sell $2.2 million in bonds to help Italian wind turbine maker Brevini expand its U.S. headquarters in Muncie. She also helped Gibson County in southwestern Indiana attract the Toyota plant.

She has helped Plainfield with projects including a $25 million bond issuance in 2002 to build a recreation and aquatic center.

"In my estimation, she's one of the best in the state at what she does," town Manager Rich Carlucci said. "She can take the complex and make it simpler for the people who don't work on that on a day-to-day basis."

Matthes might work simultaneously with 40 clients on projects in various stages of completion.

In her free time, she enjoys her grandson and mentoring adults and children in Indianapolis through her involvement in the small Indianapolis-based New Life In Christ Ministry, Matthes said, "since I didn't get to go to the Third World."•