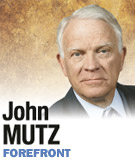 With the political landscape littered with failed attempts to end impasse and frustrated citizens worried about the need for change, many voters are saying they intend to vote for the man, not the party. Apparently they think this approach will get results.
However, history suggests that the only process that gets results is alignments of political officials, usually through the parties, who are committed to change.
Dissatisfaction with the parties has been growing for decades, but it is still the organizing system used by most legislative bodies at the local, state and federal levels of government. Once in a while, a group of like-minded citizens, like the Tea Party, starts a movement that changes alignments, but it still must operate within the party structure to be effective.
At the federal level, President Obama needed majorities in the House and Senate to get his Affordable Care Act enacted. If the priority now, as it should be for most Americans, is to solve the fiscal crisis that threatens our country's solvency and possibly our way of life, we need an alignment of the power centers in the nation's capital.
For this reason, I have decided to vote for Richard Mourdock for the Senate seat formerly held by Richard Lugar. Although I disagree with Mourdock's view of compromise, I know he will support the Republican leadership when reorganization occurs in January. Since the House will likely remain in Republican control, and I still believe Mitt Romney has a chance to win, we have a possibility for an alignment that will produce change. A split Congress and a Democrat as president will once again produce an impasse.
In Indiana, Gov. Mitch Daniels had an ambitious agenda to change K-12 education and improve the state's economic climate. He needed a Republican House in addition to the GOP Senate to succeed, so he organized an effort to recruit legislative candidates who agreed with his ideas and elected a Republican majority. A number of like-minded citizens supported this effort and we have an education reform program that leads the nation and a right-to-work law in a state where most pundits said it couldn't be done.
In 1969, the Legislature approved the Unigov act, which created metropolitan government in Marion County, a measure that started the transition of our city from India-No-Place to a truly great urban center. In this case, it took an alignment that included the governor, Otis Bowen, the Indiana House and Senate, a Republican-controlled city council and a GOP-dominated county council.
Even with this lineup, the law passed both houses with a razor-thin majority. In large part, this was due to the leadership of Marion County Republican Chairman L. Keith Bulen, possibly the most effective political operative in either party over the last hundred years.
This fall, voters in Indianapolis Public Schools District have a chance to elect a series of school board members who are committed to reform. If you believe change is needed, Sam Odle, a retired hospital executive, should be chosen for the at-large seat. In District 4, Diane Arnold, an incumbent and director of Hawthorne Community Center; in District 2, Gayle Cosby, a retired special education teacher; and in District 1, Caitlin Hannon, a former IPS teacher, are all committed to change.
These four votes will combine with members who are not running this year to produce a reform-minded board.
When systemic change is needed, a new alignment of key decision-makers is likely the only way to make it happen. Some pundits are advocates of divided government because no one faction can seize control or dominate the policy. However, under crisis circumstances or when a once-in-a-decade alignment occurs, it is time to act.•
• Mutz has held leadership positions including lieutenant governor and president of Lilly Endowment and PSI Energy. Send comments on this column to ibjedit@ibj.com.
Please enable JavaScript to view this content.