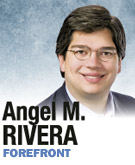 When good men and women fail to lead, problems get worse. This has happened for too long, and now we need concrete proposals from our candidates for state and federal offices that address the crises that threaten our republic.
The obstacles Washington faces are the responsibility of elected leaders who failed to deliver solutions to the long-term challenges our country confronts. While I believe the American people are capable of having an adult conversation about the country's difficulties, our candidates for higher office have shied away from truly transcendent proposals. Rather, they have been content to nibble around the edges or, worse, to simply ignore the issues.
America is deeply in debt. We should be ashamed of the borrowing levels of our governments. Many state and local governments share the seemingly insurmountable fiscal problems of the federal government.
However, unlike Washington, states lack the monetary tools to postpone a responsible conversation. The day of reckoning is coming. Will the states bail out broken local governments? Will the feds bail out the states?
Lately, Hoosiers have been well served by some of our leaders. Gov. Daniels and Mayor Ballard both have shown boldness when tough decisions confronted them. Poll numbers often declined in the short term but, over the long run, vision and responsible execution have been rewarded at the polls.
During the proposal to lease the Indiana Toll Road, the governor could have avoided ruffling feathers and given in to naysayers, but Indiana would have missed an exceptional opportunity to access cheap capital and invest it in transportation infrastructure at historically low construction costs.
Ballard could have buckled on the water transfer or the parking meter transactions. Instead, he listened to input from communities all over the city. He then consulted with his staff and the council and negotiated unique deals that have resulted in a successful road rehabilitation program, modernized parking meters and a 50-year source of revenue for roads and sidewalks.
I wish Washington showed this level of leadership.
In recent decades, millions of illegal immigrants have established themselves in our communities and taken on productive roles in our economy. Federal officials ignored the problem or pandered to xenophobic anger rather than confront the problem with pragmatic solutions.
Mike Pence proposed immigration reform that allowed the private sector to innovate in the use of work visas for guest workers but his colleagues would not even thoughtfully debate the issue.
Now states are entering the immigration debate in the absence of federal action. Sadly, these debates have often led to discriminatory proposals. Missing the lessons of leadership, too many legislators have failed to call out the short-sightedness of the populist crowd.
As Indiana heads to the polls in a few weeks, we are unlikely to decide the national election, but the path our state follows is completely up to us. Pence and Greg Zoeller are clear examples of officials who stand for what is right, even when it is not popular. They have shown the courage to do the right thing.
During the daylight saving time debate, it was suggested that Hoosiers don't like change. But our leaders must step up and encourage us to accept change and competition as part of our growth. American history shows that innovation to overcome competition is the best formula for our success.
Let's make our candidates truly compete for our votes. Ask them the tough questions and demand concrete answers. A battle of ideas is a good thing for Indiana and we need to have it.•
• Rivera is a sales consultant and former at-large city-county councilor. Send comments on this column to ibjedit@ibj.com.
Please enable JavaScript to view this content.