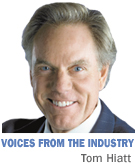 In the current political campaign, private equity, the industry in which I have spent much of my career, finds itself in the spotlight. But in my conversations with other intelligent people, I often find they are curious about what private equity funds do.
To help you parse the campaign rhetoric, let me tell you what you need to know about private equity.
For many years, money managers believed they were being good financial stewards if they invested their portfolios in stocks of publicly traded companies and in fixed income instruments like bonds. Shortly after World War II, a few money managers slapped their foreheads and realized the vast majority of companies in the world are not publicly traded but rather privately owned.
Because privately owned companies rarely publish financial data, it is often challenging to determine which are well managed. These money managers, who invested money on behalf of universities, foundations and pension funds, realized that if they wanted to participate in the wealth being created by private companies, they needed a new model.
Slowly, the private equity industry was born. Since most money managers do not have the resources to determine in which private companies to invest, they turn to private equity fund managers to find the most promising private companies and put their money to work in them.
The model is practical: It gives managers of private equity funds the power to make complicated long-term investments on behalf of a group of larger investors, and it shields the investor group from legal liability. A single fund typically constructs a portfolio of multiple investments in private companies, reducing the risk associated with an investment in a single company. Fund managers are compensated on how well their portfolios perform.
These managers typically start by raising a pool of capital from institutions and individuals. Then they look for bright entrepreneurs starting companies or established companies with growth potential. By virtue of their investments in companies, private equity firms become owners in the companies they back. Typically, fund managers serve on a company's board and provide the management team with strategic and operational guidance. They often set up stock ownership plans that provide a company's management team with an ownership interest in the companies in which they work.
Perhaps the most challenging aspect of a fund manager's work occurs when, some years later, it is time for the fund to "exit" the investment and return capital to its investors. An exit might involve the sale of a company to its management team, or the sale of the entire company to a new owner.
So why is any of this relevant in an election year?
Easy access to capital and strategic guidance helps American companies compete in world markets. Tiny fractions of pension funds, university endowments and insurance companies are invested every day in our country's most promising private companies. As these companies grow, they create jobs and pay more taxes.
Eventually, when private equity fund managers return capital to investors, the gains from these investments benefit those people who receive pensions, attend universities or receive payments from a life insurance policy.
Private equity funds have played key roles in financing the growth of many well-known companies, including Apple, Starbucks, Staples, Microsoft and Amazon. They have also financed the growth of many more companies you might have never heard of, but that likely provide goods and services you use every day.
So, would a guy who built and managed a private equity fund make a good president?
That's another conversation. If you're curious about for whom I intend to vote and why, send an e-mail to tom@centerfielcapital.com. You may be surprised.•
__________
Hiatt is founding partner of Centerfield Capital Partners, one of the largest private equity funds based in Indiana. Views expressed here are the writer's.
 
Please enable JavaScript to view this content.