Embracing the Heartland Film Festival (Oct. 18-27) means overcoming one's resistance to positivity. Oh, sure, there are people who admit that they like happy endings and positive human values. But there seem to be just as many who like to come across as cynical, world-weary and nihilistic. To enjoy Heartland, you've got to get over that.
That isn't to say bad things don't happen in the worlds depicted in Heartland flicks. Far from it—especially in the documentaries. It's just that even the roughest among them are tempered with a sense that the viewer can somehow have a positive impact on the world.
This time around, I served on a jury for Heartland—helping narrow the group of already-picked fiction flicks to the ones that will be designated award winners. Even so, I haven't seen half of what this year's Heartland has to offer. But I can make some recommendations based on those I did see.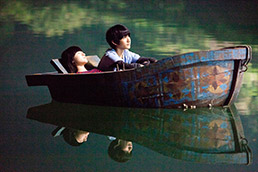 Of the 1,200 films submitted to this year's fest, just over 100 (including "Starry, Starry Night," above)" made the cut. (Photo courtesy of Heartland Film Festival)
Let's start with "Starry, Starry Night," a beautiful, inventive and visually stunning tale of a young girl who makes a new friend in the midst of her parents' breakup and her grandfather's death. I like when a film can knock you out with judicious use of special effects without the need to go overboard (Think "Eternal Sunshine of the Spotless Mind"), and director Tom Lin has a knack for sneaking in magic before you realize what's happening. Yes, the title refers to Van Gogh's painting, and the way art is used here is fresh and powerful.
Art is also integral to the documentary "All Me: The Life and Times of Winfred Rembert." The subject is an artist who spent seven years on a Georgia chain gang. You might think you've heard this sort of story before, but the way Rembert uses his life in his artwork (every piece of which is autobiographical) and the remarkable love story that emerges between him and his wife, sets this film apart.
Non-romantic love is the key to "Dave," a lazily titled look into the life of a former basketball star who, having grown up fatherless, wants to help another fatherless outcast emerge from his shell. The story is terrific and the real-life characters vivid. If its makers hadn't fallen in love with their footage, it could have been great rather than merely good.
There is a hint of a love story in one sequence of "Nothing Like Chocolate," a documentary about American Mott Green's efforts to run a chocolate cooperative in Grenada that respects and fairly treats local growers. I won't say more, but the surprising sweetness adds flavor to an already interesting look at the cocoa business—and the blind eye that we turn to the horrible conditions under which much of it is produced, particularly in the Ivory Coast.
Overseas issues are central to much of what you'll see at Heartland. I was pleased to see unexpectedly detailed characters in "A Bottle in the Gaza Sea," based on a teen novel about a Jewish girl from France living in Jerusalem who strikes up a pen pal relationship with a Palestinian boy. "Valley of Saints," while low on plot, is rich in detail of its Kashmir residents during a military crackdown. And stories all over the world are kaleidoscoped together in "Who Cares?," a Brazilian film exploring social entrepreneurs—citizens attempting to make a difference. It makes no secret of its inspirational mission, but it still works.
Inspiring in a different way is "Caris' Peace," an often uncomfortable and slightly amateurish but riveting account of the efforts of actress Caris Corfman to perform a one-woman play despite brain damage that struck her with short-term memory loss. If you can't image such a feat, join the club … and watch the film. You might find the everyday challenges in your own life suddenly seem less daunting.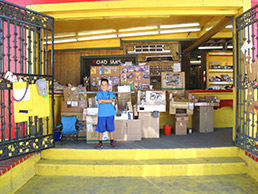 Like its creative subject, the Heartland film "Caine's Arcade" is short but powerful. (Photo courtesy of Heartland Film Festival)
What struck me most about "Trash Dance" wasn't extraordinary artistic achievement, but the way the film celebrates the ordinary. Imagine journalist Studs Terkel as a choreographer and you might get a sense of what's happening here. In "Trash Dance," choreographer Allison Orr somehow talked city sanitation workers into allowing her to create a dance performance using them … and their trucks. What could have been a very short film—you can imagine both the management and the workers laughing her out of the truck yard—turns into a joyful celebration of both the workers and of art.
And while I didn't get to see many of the short films, I would be remiss if I didn't point you toward "Caine's Arcade," which will not only introduce you to a cool kid who built a cardboard game room in his father's store, but also may well restore your faith in the world.
(And lest you think I'm a Pollyanna about Heartland, let me add that "Hayfever" left me cold, "The Citizen" would be awkward enough without Cary Elwes in a truly awful supporting performance, and "Not That Funny" isn't at all.)•
__________
This column appears weekly. Send information on upcoming arts and entertainment events to lharry@ibj.com.
Please enable JavaScript to view this content.