The next model of the Honda Civic, due out by year-end, may need hefty changes to silence critics and ensure the company's 2,000-employee Greensburg factory has strong demand for its signature vehicle for years to come.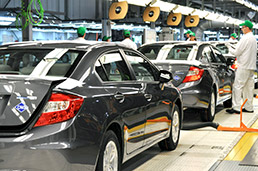 Honda produced 2012 Civic natural gas vehicles in Greensburg. (Bloomberg photo)
The Japanese automaker has remained quiet on what to expect in the 2013 Civic. It only acknowledges there will be upgrades.

Honda announced in July it would invest $40 million in its 4-year-old Greensburg plant to increase the sedan's production in 2013 from 200,000 to 250,000 a year. The Civic and the Acura ILX, which shares the same assembly line, are the only vehicles made in Greensburg.

The 2013 model will need a makeover to win over Consumer Reports, which gave the 2012 model a dismal review because of poor handling and a "cheap" interior.

"Honda knows what it has to do. I truly believe that," said Mike Quincy, an automotive specialist for Consumer Reports. "They know what it takes to build a decent car. They'll have to figure out how they'll allocate their resources."

The magazine in August 2011 refused to recommend buying the ninth and newest generation of the Civic—once heralded as one of the best small sedans—because the car scored too low.

So far, the negative review hasn't seemed to dampen consumer enthusiasm for Civics, which typically sell for $16,000 to $26,000, depending on features.

Sales tumbled in the spring of 2011 after Japan's earthquake and tsunami disrupted the supply chains for Honda and other Japanese manufacturers. But after the review came out in August 2011, Civic sales picked up 13.6 percent in September and have kept growing.

Last fall, Honda even added a second shift in Greensburg to boost production, creating another 1,000 jobs.

The good news continued into September, when Civic sales were 57 percent higher than the same period a year earlier.



Even so, industry analysts said the Civic eventually will lose momentum if Honda fails to address shortcomings that critics spotlighted in the 2012 model.

"The big thing for Honda has always been their expertise in engine technology," said Tracy Handler, an automotive analyst for the research firm IHS. "And that's one of the areas where they really kind of fell down."

Experts' issues

Consumer Reports lauded some of the trademark qualities of the Civic in its 2012 review: fuel economy, acceleration and a roomy interior.

But in reviewers' eyes, those benefits could not trump long braking distances, interior noise, "jiggly" driving on rough roads, "watered-down steering," "cheap" interior design, or the lack of Bluetooth connection in standard models.

"We don't judge style," Quincy told IBJ. "But if you're at all a car enthusiast, you can see that Hondas are not very jazzy. They don't have a lot of mojo just looking at them. They're very conservatively designed."

The problems didn't justify the $19,405 sticker price for the Civic LX the reviewers test drove.

Other publications also had tepid responses to the often-praised Civic.

Larry Webster, editor-in-chief of Road & Track, said the car lacked "the feel" it once had when driving it.

"It wasn't fun to drive. The interior was hard plastic. The dash layout was not very appealing, not very handsome, not very functional. You're wondering 'Geez, where's all the creativity?'"

Honda's response

Honda stood behind the Civic in the wake of the reviews.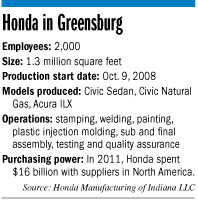 The day after Consumer Reports published its harsh critique, John Mendel, executive vice president of sales for American Honda Motor Co., issued an open letter defending the car.

"In life, sometimes you disagree even with those for whom you have the greatest respect," Mendel wrote. "And it seems as if that is what has occurred with the Consumer Reports review of the 2012 Honda Civic LX."

He added: "We fundamentally disagree with their suggestion that Civic doesn't rank among their recommended small cars. As for Consumer Reports, well, the magazine has named Civic as the 'top pick' in its segment six times over the past 15 years. So, they are definitely finding fault with someone they have shown a lot of love in the past."

He noted in the letter that Motor Trend had ranked the Civic second out of eight compact cars the magazine reviewed.

Some critics' attitudes toward Honda's small sedans already are improving.

The 2013 Acura ILX, the Civic's more upscale sibling, received Consumer Reports' nod of approval in an Oct. 8 review.

The magazine said Honda addressed many of the Civic's problems in the new Acura. But the $30,000 sticker price was a hang-up.

Competitors catch up

One of the biggest concerns Consumer Reports had with the 2012 Civic was the abundance of better options—options that didn't exist a few years ago, Quincy said.

He suggested the Hyundai Elantra, the Mazda 3 and the Subaru Impreza as better alternatives.

"Even the Toyota Corolla, which is already an old design, outscored the redesigned Honda Civic," he said. "That should give every executive at Honda a pause and say, 'We've got to do something.'"

Stephen Spivey, automotive and transportation program leader at consulting firm Frost & Sullivan, said American automakers also are sliding into the spotlight that Civic has long enjoyed in the small- and compact-sedan market.

Now that the Ford Fusion and Chevrolet Cruze have joined the fray, fuel-efficiency and reliability aren't enough to sell well in the niche, Spivey said.

And consumers expect features the Civic doesn't yet have standard, such as Bluetooth or smartphone connectivity, he added.

"[Automakers] are trying to add value," he said. "They're taking the smaller margin on that smaller car to begin with. I think they're trying to put more and more features into those vehicles."

Handler of IHS said that even Chrysler Group's Dodge brand, known for bulky vehicles, poses a threat in the small-sedan market thanks to the reintroduction of the Dart in May.

Even so, she said increasing demand for fuel efficiency should help the Civic as long as the company corrects the 2012 problems and doesn't lose its lead in the market over the next few years.

"The biggest thing in the compact segment is what your relationship with your car has been in the past and what your neighbors are buying," Handler said.

"It's a value segment. People usually don't aspire to [own] a compact. You buy it because you can afford it."•