Central Indiana has no shortage of brilliant information technology entrepreneurs who could whip up applications to help health care providers improve patient care.

Trouble is, health care providers often don't want to be the guinea pig.

And IT entrepreneurs have found hospital systems too hierarchical to get a foot in the door. Add to that the rigor mortis that is the highly regulated nature of health care.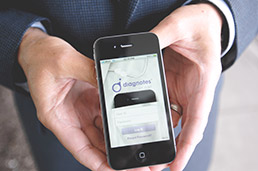 A smart phone app developed by Diagnotes sends patient medical records to smart phones carried by on-call doctors and others who are not a patient's principal doctor. Diagnotes is one of several tech firms delving into medical applications after an initiative paired firms with health care providers. (IBJ Photo/ Perry Reichanadter)
"A lot of times you can't get access to these folks. … There are so many gatekeepers," said Shannon Morris, principal of Freedom Solutions, a division of locally based Freedom Staffing that develops software for health and education markets.

But Morris' company is one of three that have found top-level access to big Indiana hospital chains through a concerted effort to match tech and health leaders to develop IT-based solutions in health care and clinical research.

The idea is one of several inspired by Advancing Life Science and Health Care Information Technology, an initiative of local tech promotion group TechPoint. Dubbed the Hoosier Healthcare Innovation Challenge, the first event was launched in July.

The city-led challenge was sponsored by TechPoint; DevelopIndy, Marion County's economic development organization; and local law firm Ice Miller. More than 20 Indiana IT firms submitted software ideas to meet IT needs identified by Indiana University Health, Franciscan St. Francis Health and St. Vincent Health.

The three finalists were Freedom Solutions and partner Cetani, a Carmel-based tech firm—and Indianapolis-based Diagnotes and Richmond-based CreateIT.

The concept is straightforward: Doctors and nurses in the hospital systems were asked, "In an IT sense, what is your pain?" said Matt Kirby, project director of life sciences at DevelopIndy.

"Here we have the [hospital] decision-makers. We have those decision-makers working cooperatively with the IT companies to help develop the product."

Deep access

In the case of St. Vincent, practitioners were looking for a better way to track the use of blood products across the state, in part to reduce the costly waste of expired products and for disaster preparedness.

The Freedom Solutions-Cetani team came up with software to automate tracking as opposed to the process now that involves lots of phone calls.

"We're looking at this as a cloud solution [health care providers] would subscribe to," Morris said.

One big advantage to this project is that Morris and her team got access to top St. Vincent executives, including Alan D. Snell, a physician and chief medical informatics officer at St. Vincent.

Contrast that with a typical scenario where Freedom would just respond to a request-for-proposals from a hospital.

"It was like Disneyland for me," Morris said. "The open dialogue is so much more productive to talk about the problem."

St. Vincent's Snell said the inaugural innovation challenge "was an exciting experience bringing together bright entrepreneurs, developers and IT specialists to better understand the problems facing health care organizations. [It] generated many ideas on how to address these issues."

"Nothing can replace the input from customers or potential customers," said David Wortman, CEO of Diagnotes, another finalist.

Diagnotes' On Call software delivers patient medical records to smartphones of, say, an on-call doctor other than a patient's principal doctor.

St. Francis chose Diagnotes to help it provide clinical documents to providers for high-risk patients and create the ability for emergency rooms to schedule discharge follow-ups.

Diagnotes has been working with clinicians and IT heads at St. Francis, said Wortman, a veteran Indianapolis IT entrepreneur.

"That's a tremendous opportunity for a young startup. You cannot underestimate the value that that brings."

The project with Franciscan also forced Diagnotes to think more expansively about its existing products' potential. It has begun to expand its core product to allow patient information to be shared via smartphones from doctor to doctor (such as through secured text-messaging)—not just to help on-call doctors call up patient records during that encounter.

"It's the right initiative at the right time," Wortman said of the innovation challenge.

Acting on a tip

Wortman
Efforts to identify and promote development opportunities between the state's IT and health and life sciences sectors have been under way for years, first at the Indianapolis-based life sciences initiative BioCrossroads.

About three years ago, the effort moved to sister organization TechPoint, as the ALHIT initiative. Alvin Givens, a JPMorgan Chase executive tapped as ALHIT's chairman, has been busy trying to introduce players from both sectors, including the countless health care organizations in the state.

"Economic development 101 is getting like-minded people in the room together," Givens said.

Helping propel ALHIT were opportunities created by the American Recovery and Reinvestment Act of 2009 to expand electronic medical recordkeeping.

At the time, about 70 IT-related health and life sciences businesses were thought to exist in the state.

ALHIT held numerous conferences and meetings that helped cultivate the idea for innovation challenge.

"We weren't sure anyone would find it interesting," Givens recalled.

But more than 220 people attended the inaugural presentations this summer at IUPUI.

Kirby said inspiration for the innovation challenge also came from Todd Park, former chief technology officer at the U.S. Department of Health and Human Services. He'd noted Indiana's leadership in electronic medical records. For instance, the Regenstrief Institute at IUPUI developed one of the nation's first electronic medical records systems, including the first city-wide system.

Park asked why more hadn't been done to develop health-care-related IT locally.

"We kind of took that to heart. There was the realization Indianapolis has great IT talent, when you look at Verge or Developer Town [IT networking and incubation organizations] or what Jim Jay has done at TechPoint," Kirby said.

"Unfortunately, I think there's an abyss between that kind of talent and the ideas that are floating around out there in our health care system, which desperately needs those kind of bright minds," he said.

Time will tell whether local developers, now obsessed with making mobile apps or video games, will consider opportunities in health care IT.

But interest in repeating the challenge next year appears strong. Givens and Kirby said they're hoping to at least make it an annual event.

"Some people thought we should even do this quarterly," Givens said.

Meanwhile, the three IT company finalists will make presentations at the Health Care Information and Management Systems Society's fall conference Nov. 6. Attendees will vote on the top concept, with the winner receiving a cash prize of $5,000.

Each of the three finalists already received a $2,500 cash prize and in-kind services including legal help and regulatory assistance toward executing their concepts with the health care systems.

The challenge "is a tremendous opportunity for the city. We have a lot of really good, young IT talent out there that is hungry for these types of opportunities," Kirby added.•