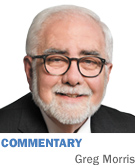 Rarely do we hear someone speak who has the potential to change our life, and as a result, the lives of others. I had such an experience recently and I want to share it with you.

My "awakening" occurred on a four-day trip to Portland, Ore., as I traveled with a delegation of about 90 central Indiana community leaders. The Greater Indianapolis Chamber of Commerce orchestrates the Leadership Exchange trip to explore how other cities face some of the same challenges Indianapolis does. The mission is to draw parallels and determine if there is anything we can learn and bring back home to improve the quality of life in our own community.

Beyond the exhilaration of being with such an accomplished group of smart people who genuinely care about the well-being of all our citizens, I was privileged to hear a truly inspirational speaker in our first session. His name is Lance Secretan.

Secretan is the former CEO of a Fortune 100 company, a university professor, an award-winning columnist and author of 15 books about leadership. Thirty of Fortune's "America's Most Admired Companies" and 12 of Fortune's "100 Best Companies to Work for in America" are his clients. After hearing him speak for two hours, I can understand why.

I guess Secretan had the right message at the right time for me. Leadership has been weighing on my mind of late. When was the last time you saw inspirational leadership in Washington? This election cycle has been especially brutal in pointing out our inadequacies in that area.

What about within your own company? Are you inspired to accomplish your work and have you been inspired by company leadership? Have you witnessed inspirational leadership anywhere lately?

We make excuses for our behavior and point out that it's tough out there, and it has been for a long time. A tough economy or difficult workplace can take a toll on confidence and self-esteem. But we have to rise above the negatives and demonstrate exceptional and inspirational leadership in order to foster exceptional performance. You can't control a lot of things in life, but you are in control of your own actions.

This is where Secretan caught my attention. He was teaching from his latest book, "The Spark, the Flame and the Torch." Buy it today and read it. Secretan teaches you how to inspire yourself, then how to inspire others, who then inspire the world.

We do things because we are inspired to do them. We should teach inspiration, not leadership. How many leadership books have you read? Have any of them changed your life? Secretan tells us we need to provide motivation and inspiration to our staffs. It's important to know the difference. Motivation manipulates people to do what we want them to do. Motivation is all about me.

Inspiration is all about them. The definition of inspiration is to arouse by divine influence. It comes from within. Your staff will perform at the highest possible level only if they are inspired to do so. You can be an inspirational leader, but others must choose this path for themselves. We must first be inspired ourselves before we can inspire others.

I can't possibly hit all the highlights of a two-hour speech and the contents of a book in this short space. Read the book and find your own path to inspiration.

I can tell you when I returned from Portland, I addressed the need for inspirational leadership at our company in my next management meeting. I collected everyone's smartphone at the start of the meeting and said I needed their full attention. I started by apologizing for what I saw as a failure on my part to be an inspirational leader of late. Then I gave a 30-minute impassioned speech about how we all needed to transform ourselves into inspirational leaders if our company is to excel in the new world order.

So has my life changed, and have I changed the lives of others? Not yet, but it starts with a spark. I've got that and I'm dedicated to growing the spark into a flame. Go and do likewise. I wish you all good health, success and an inspired life.•

__________

Morris is publisher of IBJ. His column appears every other week. To comment on this column, send e-mail to gmorris@ibj.com.