Believe it or not, there's actually a method to the madness of the monthly themes for this Dining column. Whether geographic (downtown bistros), culinary (new Italian eateries) or whimsical (possessive restaurants—this month's theme), my intention is always to find at least one brand-spanking-new eatery to review and build a theme around it to fill out the month. This way, I'm not dependent on four or five new places opening. I can revisit places that have a little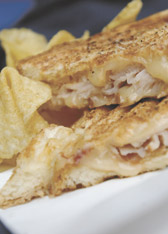 Paninis complement the caffeine at Henry's Coffee Bistro. (IBJ Photo/ Perry Reichanadter)
more history and, sometimes, I can take the opportunity to eat at a place I've inexplicably missed.

Which brings me to Henry's Coffee Bistro (627 N. East St., 951-0335). I cannot tell you how many times I've looked for a quick place for a bite on Mass Ave and blanked on an alternative to Yats. Those already converted to Henry's will no doubt respond, "Well, duh." And I've got no excuse.

I hope to make up for that now, though. A few visits recently have convinced me that Henry's is more than a neighborhood coffee bar—although there's nothing wrong with being just that. Henry's is also the rare, pleasant place with front-of-the-building outdoor

seating where you don't feel inches away from pedestrians. It also has good grub.

Plus, any restaurant with Kyle Ragsdale's haunting paintings on the walls is an automatic upgrade from your run-of-the-mill eatery (the artwork at Henry's rotates monthly).

Others can comment on the quality of

the caffeinated beverages; I'll focus on the sandwiches—with one side trip into dessert. Housed between thick slices of wheat bread, the California Turkey ($7.50) features avocado aioli, Swiss cheese, tomato and alfalfa sprouts resting on an ample-but-not-overwhelming pile of smoked turkey. Exactly the uncomplicated sandwich you should expect—and served with potato chips or housemade Asian slaw on the side. (Go for the slaw.)

For an extra 50 cents, though, why not add some crunch by ordering a panini? The Chipotle Turkey Panini ($8) worked in crisp bacon, pepperjack cheese and a chipotle aioli. Even better was the Pesto Chicken Panini ($8) with red pepper and provolone in the mix.

On my visit, the dessert case was dangerously dominated by housemade, nutty Bread Pudding ($2.50) served hot. It's mountainous enough to share or to pick at for an hour while staring at your laptop (free wi-fi here and no pressure to move on). Henry's has also been known to convert the recipe into Bread Pudding Muffins.

Thank you, I'll take six.•

__________

Fourth in a month-long series of possessive restaurants.