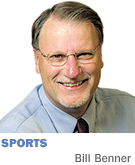 Of this, that and the other:
There is an old line journalists like to use as a form of self-deprecation: Never let the facts stand in the way of a good story.
I have felt that way in recent days as first, the U.S. Anti-Doping Agency's case against Lance Armstrong was made public, followed in relatively rapid succession by Armstrong's resignation from his Livestrong Foundation and then Nike severing ties with him as his principal sponsor.
As a staunch defender of Armstrong over the years and just a few weeks ago in this space, I was immediately contacted by a friend and a foe.
The friend asked politely, "What say you now?"
The foe stated pointedly, "I told you so."
Perhaps I have been blinded by my Livestrong bracelet. Perhaps I didn't want the facts to stand in the way of an incredible narrative. But in sport, especially in cycling, cheating is cheating. The evidence—gathered outside due process, mind you—is nonetheless overwhelming that not only did Armstrong dope, he was a ringleader in a sophisticated doping program.
Thus, I'm disillusioned, disheartened and dismayed. And I probably should be disgusted enough to slip that bracelet off my wrist, no longer blind to what appear to be the facts. Still, I have to hope that the great work of Livestrong—on behalf of patients for whom "doping" has an entirely different connotation—goes on.
Moving on …
Former Indiana University basketball coach Bob Knight has revealed he is going to auction off his IU championship rings, an Olympic gold medal and various other items, all ostensibly for the benefit of his grandchildren's college education fund.
In Indiana, some think it's sacrilege. Personally, I could not possibly care less. They are his and he earned them by virtue of his teams' performance and his role in leading those young men to championships.
I guess I'm more intrigued by who might buy them, and where they might eventually end up. IU's basketball hall of fame in Cook Hall might be an appropriate destination, but then, given Knight's bitter divorce and total separation from the university, would he allow that? Once out of his hands, does he even care or exercise control?
Again, they're just rings, baubles. But they do represent an extraordinary era of success under the man who left an indelible mark on IU basketball in particular and intercollegiate basketball in general.
And just in case you're interested, I won't be bidding on any Knight items unless they include an autographed copy of IU President Myles Brand's zero tolerance policy, the broken pieces of the vase he fired over the athletic department secretary's head or, of course, The Chair.
Moving on …
Track great Wilma Rudolph once said, "Winning is great, sure, but if you are really going to do something in life, the secret is learning how to lose … If you can pick up after a crushing defeat, and go on to win again, you are going to be a champion someday."
The cruel social media world spewed ugly venom all over Brownsburg native (and son of former WISH-TV Channel 8 sports anchor Mark Patrick) Drew Storen when the relief pitcher failed to close the fifth and deciding game of the Washington Nationals' playoff series against St. Louis.
It was a crushing defeat, indeed, but Storen, who came back from surgery to his pitching arm earlier in the year, handled himself with grace and poise in the aftermath. He'll pick himself up, and he'll be back, I hope as a champion.
Finally …
The ring of fire: Indiana 1, Louisville 2 and Kentucky 3 in the first preseason basketball poll. Given that, it's probably not coincidence that ticket sales for the NCAA's Midwest Regional next March at Lucas Oil Stadium are off to a strong start.
And shame, once again, on Kentucky for ducking the Hoosiers on the schedule. What a game that should have been. And what a game it would be if somehow they meet each other in LOS next March.•
__________
Benner is senior associate commissioner for external affairs for the Horizon League college athletic conference and a former sports columnist for The Indianapolis Star. His column appears weekly. He can be reached at bbenner@ibj.com. He also has a blog, www.indyinsights.com.
Please enable JavaScript to view this content.